Posted on
Wed, Jun 26, 2013 : 4:41 p.m.
Investigators find nothing wrong with plane involved in crash that killed Northfield Township firefighter
By John Counts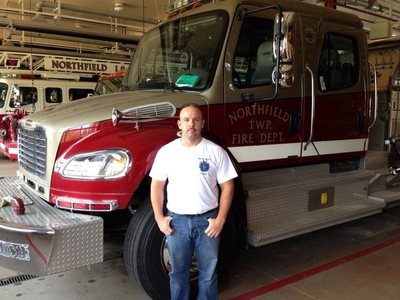 Courtesy of Northfield Township Fire Department
An investigation revealed that there were no mechanical problems with the plane that crashed Friday in Oakland County , killing a 34-year-old Northfield Township firefighter and three others, the Detroit News reports.
The National Transportation Safety Board determined the Cessna 172 being piloted by 19-year-old Troy Brothers wasn't malfunctioning, according to the Detroit News.
Brothers, his mother Sandra Haley, 53, stepfather James Haley, 58, and cousin, Jamie Jose, 34, were all killed in the crash, which occurred at 12:40 p.m. at Oakland County International Airport, the report said.
Jose had been a Northfield Township firefighter for about a year and a half and had recently moved near the fire station in Whitmore Lake, according to family members.
There will be a visitation for Jose at the Vermeulen Funeral Home, located at 46401 W. Ann Arbor Road, Plymouth Township, from 2 to 9 p.m. Friday. A memorial service will take place from noon to 1 p.m. Saturday at Dexter's St. Joseph Catholic Church, at 6805 Mast Road at the corner of North Territorial Road. A Mass of Christian burial will take place at 1 p.m.
A memorial scholarship fund also has been set up for Jose's children at the PNC Bank in Whitmore Lake. Call (734) 449-4477 for information about how to donate.
Read the Detroit News story.
John Counts covers cops and courts for AnnArbor.com. He can be reached at johncounts@annarbor.com or you can follow him on Twitter.