Posted on
Tue, Aug 3, 2010 : 10:41 p.m.
Irwin edges past Staebler for 53rd District state rep seat; Warren solidly defeats Byrnes in Senate race
By Ryan J. Stanton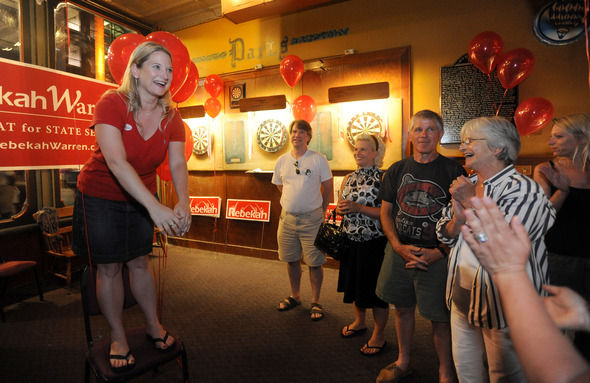 Angela J. Cesere | AnnArbor.com
Ann Arbor area voters have chosen Rebekah Warren and Jeff Irwin as the Democratic nominees in two hotly contested state legislative races.
Unofficial results show Warren cruised past opponent Pam Byrnes 13,113 to 9,539 in the 18th District state Senate primary race with all precincts reporting. Thomas Partridge, a third candidate in the race, picked up 908 votes.
Irwin narrowly defeated Ned Staebler 5,051 to 4,845 in the 53rd District state House race, according to unofficial results with all precincts reporting.
"It was a tough campaign, and Ned Staebler ran a wonderful race," said Irwin, who celebrated victory tonight with supporters at Arbor Brewing Co.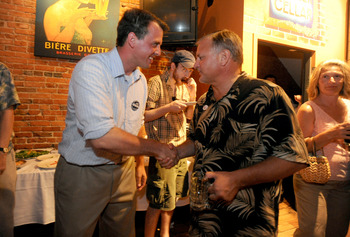 Angela J. Cesere | AnnArbor.com
"We have a lot of hard work to do up in Lansing," said Irwin, who has served on the Washtenaw County Board of Commissioners for the past 11 years. "I'm going to try to do a lot of listening to the voters and do a lot of work up in Lansing to turn our state around and start investing in the people and places that make Michigan a great place."
Staebler gave an emotional speech before a crowd of supporters gathered in the basement of Cafe Habana. He choked up while talking about how hard he and his supporters worked on the campaign, one he said was about making Michigan a better place so hopefully his son would want to stay here someday after college.
"Obviously, I don't think this was the speech I was hoping to give tonight, but that's the beauty of democracy. You never know what speech you're going to end up giving at the end of the night," said Staebler, a vice president for the Michigan Economic Development Corp. who outpaced Irwin in both fundraising and support, but couldn't overcome the hurdle he faced going up against a longtime politician.
"This race wasn't about being state representative for Ann Arbor," Staebler said. "And this race wasn't about working in Lansing or having a title or a job. This work was about my friends and my family, your kids, your grandkids, and our future and how bright it is and how important it is that we recognize that."
The Michigan League of Conservation Voters, an environmental group that endorsed Warren in the Senate race, issued a statement tonight.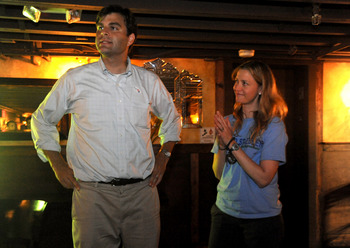 Angela J. Cesere | AnnArbor.com
"Rebekah's victory is not only a win for Washtenaw County, but for the whole of Michigan," said Lisa Wozniak, LCV executive director.
"In the state House, she was a champion for the environment, the Great Lakes, and her constituents, and I have every confidence that she will continue in that same decisive role in the state Senate," Wozniak said. "Michigan LCV was proud to endorse and fight alongside her throughout this tough primary fight and I am looking forward to doing so as she moves on through November and then on to Lansing."
Warren will take on Republican John Hochstetler in November. Hochstetler had 7,973 votes to Gary Wellings' 5,463 in the Republican primary race for the 18th District.
Irwin takes on Republican Chase Ingersoll of Ann Arbor in November. Ingersoll ran unopposed in today's 53rd District primary on the GOP side of the ticket.
But the Republican challengers face steep uphill battles in two heavily Democratic districts. In November 2008, the 53rd District vote swung 78 percent in favor of Warren, D-Ann Arbor, who currently holds the seat. In November 2006, the 18th District vote swung 71 percent in favor of Liz Brater, D-Ann Arbor, who holds that seat.
Ryan J. Stanton covers government and politics for AnnArbor.com. Reach him at ryanstanton@annarbor.com or 734-623-2529.