Irwin beats Partridge in 53rd District state House race in Ann Arbor
Posted on Tue, Aug 7, 2012 : 10:15 p.m.
With all precincts reporting, state Rep. Jeff Irwin, D-Ann Arbor, has defeated Democratic challenger Thomas Partridge in the 53rd District state House primary race.
The final vote count was 5,541-725, with Irwin getting 88.2 percent.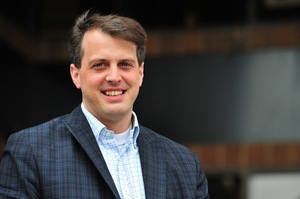 Ryan J. Stanton | AnnArbor.com
Irwin, a former Washtenaw County commissioner, was first elected to the state House in 2010. He now has an eye toward a second two-year term in the Michigan Legislature, where he's been a frustrated member of the minority party since Republicans gained control last year.
Assuming he gets another term, Irwin said his top priorities as a state lawmaker will continue to be education funding, environmental protection and equal rights.
"It's been frustrating to sit on the Energy and Technology Committee for two years and not take the very real opportunities for economic development and job growth in the clean energy sector," he said. "When you have an opportunity to make money, create jobs and protect the environment, and make our state more self-sufficient going into the future, this just seems like a win-win."
Irwin still faces a challenge from Republican John Spisak in the November general election, but even Spisak knows his chances of winning are slim.
"Let's be honest, I'm not going to win. I live in Ann Arbor," Spisak said on Monday. "I think maybe 25 percent of the people in Ann Arbor are Republicans."
Irwin realizes that, too, which is why he said he's going to focus his efforts between now and November on helping other Democrats get elected to the state Legislature. That includes helping Saline Mayor Gretchen Driskell beat state Rep. Mark Ouimet, R-Scio Township.
Ryan J. Stanton | AnnArbor.com
"Mark is a pleasant guy, a guy who I've always gotten along with. I think his voting record, though, has been disappointing," Irwin said. "The reason I'm involved in politics is to accomplish positive change for our state, and I just don't feel like that's what we've been doing in the Legislature."
Spisak, a 46-year-old Virginia native who moved to Ann Arbor in 1989, is hoping Ann Arbor voters will look past the R next to his name and give his campaign serious consideration.
He points to his wife of 20 years, Linda, as Exhibit A when making the case that he's open-minded. A third-generation Ann Arborite, she's a Democrat and a school social worker.
"I believe there are two sides to every story," Spisak said. "I would tell people to have an open mind. Don't vote one way because he's a Democrat and I'm a Republican. Look at our ideas."
Spisak, a stay-at-home dad and soccer referee, holds a bachelor's degree in finance from Eastern Michigan University and is working on a masters of education at the University of Michigan. He said his campaign will focus on improving education and getting "wild spending" under control.
Partridge ran a campaign that touched on affordable housing and access to public transit. He said he wanted to represent the Ann Arbor area's most vulnerable residents in Lansing.