Posted on
Fri, Jun 14, 2013 : 9:44 a.m.
Irwin proposes bill that would allow residents to know when pesticides are being sprayed
By Ryan J. Stanton
State Rep. Jeff Irwin, D-Ann Arbor, has introduced legislation that would allow residents to add their names to the state's pesticide notification registry.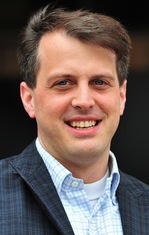 "People deserve to know what they are being exposed to, especially when it comes to protecting their health and the health of the children," he said.
The current system allows only those with a physician's certification meeting certain criteria to have their names added to the registry.
House Bill 4841 would expand the registry to allow residents to sign up and be notified when a commercial applicator sprays lawn, ornamental or mosquito-control pesticides immediately adjacent to their property.
"This is a personal health issue," Irwin said. "My bill provides Michigan residents the right to know when their household may be exposed to harmful chemicals applied near their property. By providing an opt-in, people are given the freedom to make informed decisions about their health."
Irwin cited figures that claim an estimated 78 million U.S. households use chemicals on their lawns and gardens, and acre per acre, residential use of pesticides outweighs agricultural applications threefold.
While the Environmental Protection Agency reviews individual ingredients, Irwin said, it does not consider the overall safety of chemical mixtures, which he said can be more harmful than exposure to individual chemicals.
Alexis Blizman, policy director at the Ann Arbor-based Ecology Center, agreed.
"Common lawn pesticides have been linked to numerous negative health effects, including kidney and liver damage, birth defects, skin irritation, damage to the reproductive and hormone systems, and cancer," Blizman said.
"The passage of this bill will afford Michigan families and individuals the opportunity to prepare for adjacent pesticide sprays by closing windows, covering sandboxes, bringing pets inside, and even leaving the property. We applaud Rep. Irwin's continued efforts to protect Michigan families."
Irwin's bill was referred to the House Committee on Regulatory Reform on Thursday. The bill has several co-sponsors, including Ellen Cogen Lipton, Bill LaVoy, Rudy Hobbs, Sarah Roberts, Vicki Barnett, Dian Slavens, Sam Singh, Jon Switalski and Rashida Tlaib — all Democrats.
Ryan J. Stanton covers government and politics for AnnArbor.com. Reach him at ryanstanton@annarbor.com or 734-623-2529. You also can follow him on Twitter or subscribe to AnnArbor.com's email newsletters.