Posted on
Thu, Mar 1, 2012 : 6:33 p.m.
Irwin says Democrats were denied chance to speak on graduate research assistant bill
By Ryan J. Stanton
State Rep. Jeff Irwin, D-Ann Arbor, said he and another Democratic lawmaker were prohibited from speaking on the floor of the state House today against a bill that would prevent graduate research assistants at public universities in Michigan from forming unions.
Rather than hearing any objections to the legislation, Irwin said the Republican-led House "railroaded through the bill" on a partisan vote of 62-45.
"When the bill came up, I walked up to the front expecting to speak, and when I got up to the front, my leadership informed me they weren't going to be taking any comments," Irwin said, adding state Rep. Vicki Barnett, D-Farmington Hills, also wanted to speak.
"Vicki was standing at the podium with a piece of paper on the podium, ready to be recognized," Irwin said. "It was clear we were lining up to talk about this issue."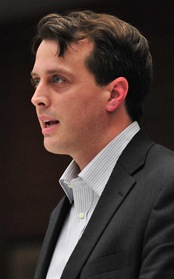 Ari Adler
, press secretary for House Speaker
Jase Bolger
, said in order for somebody to speak, they have to be recognized, and he's not aware either lawmaker asked to be recognized. He noted Speaker Pro Tem
John Walsh
, R-Livonia, was in charge of the floor at the time.
Irwin said he made the request to speak through his party's leadership.
"And my understanding is that request was passed along to the Republican leadership and they said there was going to be no debate on this item," he said.
Senate Bill 971, which legally classifies graduate student research assistants as students and bars them from unionizing, is sponsored by Senate Majority Leader Randy Richardville, a Republican from Monroe who represents a portion of Washtenaw County.
"Senate Bill 971 is about protecting the students from additional fees or dues they would have to pay to the unions," Adler said. "And it is about protecting the integrity of the relationship between graduate research assistants and the faculty."
Irwin called that laughable.
"For them to say they're fighting on behalf of the interests of students in the state of Michigan is just hilarious after what they've done, cutting funding for universities by 15 percent," he said. "What the Republicans have done is to vastly increase tuition for our students."
Irwin called today's vote to strip graduate research assistants of their right to organize as university workers "pure hypocrisy." The GOP-backed measure comes as University of Michigan graduate student research assistants attempt to unionize.
Irwin said Republicans talk a good game about "small government," but they were happy to use the "heavy hand of state government to pursue their political goal of squashing unions."
"They imposed their ideology on the university, further compromising its independence, and they took away the rights of employees hoping to organize," said Irwin, a U-M alumnus whose district covers the university. "The University of Michigan and its graduate research assistants are currently working through a process to allow students the right to choose if they want to be in a union or not. Unfortunately, Republicans don't want them to have that right."
The House hasn't yet taken a procedural "immediate effect" vote or returned the bill to the Senate, which approved the bill last month.
But it could be headed to Gov. Rick Snyder's desk soon.
The U-M case was heard by a judge in January, and the judge was to make a recommendation to the Michigan Employment Relations Commission later this month. MERC last year reaffirmed a 1981 decision that bars research assistants from unionizing.
Irwin believes the bill thwarts that judicial process.
"It's just not appropriate," he said. "It's not what the Legislature should be doing. It's a misunderstanding of the Legislature's role in the process. There is a process for determining the answer to these types of questions and that's the MERC process."
Adler said the GOP sees it differently.
"There are three branches of government and each of them moves along at their own pace and does what they think is in the best interests of the people they're representing," he said.
Barnett issued a statement saying Republicans decided "once again that their crusade against workers' rights to form and join unions is more important than creating jobs, keeping people in their homes or ensuring every child in Michigan has access to a quality education."
Irwin pointed out the students who are being denied the right to unionize work at the university, receive paychecks and pay taxes just like any other employee. "If it looks like an employee and it quacks like an employee, it's an employee," he concluded.
Ryan J. Stanton covers government and politics for AnnArbor.com. Reach him at ryanstanton@annarbor.com or 734-623-2529. You also can follow him on Twitter or subscribe to AnnArbor.com's email newsletters.