Column/with poll:

Is Ann Arbor ready to let the mixed-use movement die in downtown development?

Posted on Wed, Sep 21, 2011 : 3:32 p.m.
News from Tuesday night's Ann Arbor planning commission meeting contains lots of updates and comments on the proposal for The Varsity, a 13-story high-rise.
One notable detail: There's no ground-floor retail space in the plans for the building.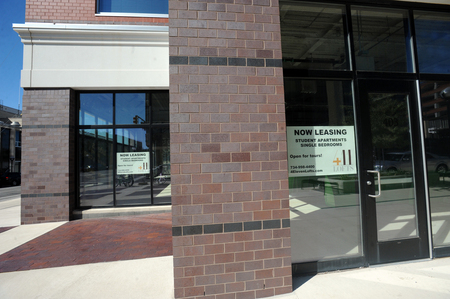 AnnArbor.com files
And with that development detail, I couldn't help but wonder: Is this the project that will end Ann Arbor's obsession with mixed-use buildings?
It may not seem like an obsession any more, now that the pace of development has slowed.
But there was a time in Ann Arbor when the only type of development project that seemed to get approvals in the city involved elements of multiple uses. Kind of like a development version of a mullet: instead of a business in the front, party in the back hairstyle, Ann Arbor became the "housing above, retail below" town.
It wasn't a concept without merit. We do live in a town where walkability isn't present on some key downtown blocks, and those blocks (think East Washington between Fifth and Division) pay a lack-of-pedestrian price.
And the idea of more housing, more storefronts, more vitality isn't exactly a negative.
But if, as one commenter said, this wave of student housing high-rise proposals can be considered Ann Arbor's newest real estate bubble, we also should be asking: Is it time to remove what seems like "mixed-use at all costs" from development planning?
Mixed-use as a concept is a wonderful thing.
In practice, in Ann Arbor, in projects where's it's been "strongly encouraged," it's not exactly a winner.
One example that comes to mind: Ashley Terrace - which once started as a proposal for an office building until planning commissioners noted that they wanted retail and housing on key corners of downtown. A couple of dozen of those unsold housing units - and the never-leased retail space - just sold out of foreclosure.
There's also Plymouth Green Crossings, where vacant retail space remains and a second building may never be built.
And we'll see how locations like 601 Forest and Zaragon West fare. I hope they end up more like Huron Village, with successful condos north of the shopping center, than Ashley Mews, which waited for years (even during downtown's heyday before The Great Recession) before it could lure a retail tenant to its block of Main Street.
The closest example of mixed-use-before-its-time stands next door to The Varsity: Sterling 411 Lofts on East Washington Street.
That high-rise reportedly has strong apartment occupancy, but the ground-floor retail space languished for years, right across the street from McKinley Towne Centre's retail space at the same intersection.
Both sought to expand foot traffic along East Washington. Both struggled for tenants.
Now, after a price drop, Subway moved into the Sterling property and Sava Lecaj is opening a market this fall. They're taking a risk that many in the city hope pay off.
But the most telling part of the mixed-use tale may come from this detail: Sterling is moving its leasing office to the ground floor, into what The Varsity architect called "un-leasable" retail space.
From our story on The Varsity, here's architect Brad Moore: "In talking to the other landlords and doing the market study, we just felt that this isn't the time for retail on the ground level."
Developers have uttered that sentiment before in Ann Arbor. I'm wondering if this time, after witnessing what can best be described as "mixed" effects of mixed-use, the city will let the market studies that show tepid demand drive the decision instead of the vision.