Posted on
Wed, Feb 10, 2010 : 6 a.m.
Is it time to start thinking about a city income tax? Ann Arbor council members weigh in
By Ryan J. Stanton
Talk of implementing a city income tax in Ann Arbor has reemerged in budget discussions lately as city officials find themselves grappling with the formidable challenge of addressing a $5.2 million deficit.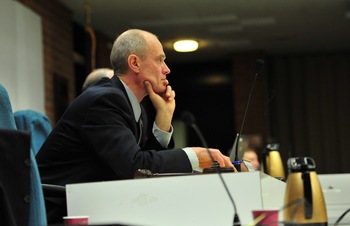 Ryan J. Stanton | AnnArbor.com
But even if an income tax was implemented this year, city officials say it's not likely to impact the budget for another year. For that reason, they say it's probably not the answer to today's problems, but it could arguably stabilize the budget in the next few years.
A feasibility report presented last July showed a local income tax could raise $7.6 million to $14.2 million in new net revenues for the city, depending on the level of tax. That's after factoring in expenses and a 15 percent drop in property taxes that - per city charter - must go hand-in-hand with any income tax.
The leading option discussed in city circles has been to tax residents at a rate of 1 percent of their income and non-residents at a half-percent.
City officials acknowledge it will take a hard-fought campaign to educate voters about the benefits of an income tax. For instance, they stress, it would shift a portion of the city's tax burden off residents and onto the estimated 75,000-plus commuters who work in Ann Arbor but don't live here or currently pay taxes.
The tax question ultimately would be up to city voters to decide, but the Ann Arbor City Council first must act to put the question on the ballot.
AnnArbor.com put the question to City Council members this week: Is it time to start thinking about an income tax again?
A majority of them said yes.
Sandi Smith, D-1st Ward - 'a city income tax needs to be considered'

It is time to consider everything. Even if we can cut enough to balance the FY10 and FY11 budgets, we cannot cut our way to prosperity. A city income tax needs to be considered, as does a Headlee rollback. We also need to look at all of our fees for service and opportunities to expand our tax base, both of which are extremely difficult in these challenging economic times. Ultimately, I would hope that we can get structural changes at the state level through a Constitutional Convention, but that is another conversation.
Sabra Briere, D-1st Ward - 'not convinced that an income tax is the best income generator'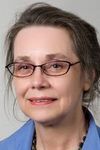 I have looked at the other cities that implemented income taxes years ago. Ann Arbor is, I believe, the only Michigan city that would have to offset an income tax with property tax relief. Right now, at least one city is returning to the voters asking for an income tax increase because incomes are down. I'm not convinced that an income tax is the best income generator, but I am convinced that it would be a mistake to look for new revenue without a public discussion that results in setting clear priorities and long-term goals for services and capital expenditures. The discussion (Monday) night at council was unusually frank, but still had little momentum. I trust the council will find more creative solutions than an appeal for taxes without the administration committing to a clear change in the way the city does business.
Tony Derezinski, D-2nd Ward - 'it's time to look at it for Ann Arbor'
The city's present and dire financial situation must prompt us to consider equally substantial changes in our service costs, but also in our revenues and their sources. And that includes consideration of a shift from use of operating revenues generated by property tax, which would be eliminated if we restructured to use of a city income tax. State law and our charter would allow us to impose an income tax not only on residents, but also a portion of it on those tens of thousands of non-residents that work and earn their livings in Ann Arbor. I previously worked in Grand Rapids, and paid its income tax even though I lived in Muskegon, with none that time, and worked in Lansing and paid theirs, while living here in Ann Arbor. I felt that the $300 or so dollars I paid respectively was quite fair and equitable for the munical services I received from those cities. It's time to look at it for Ann Arbor.
Stephen Rapundalo, D-2nd Ward - 'there's a lot to be said in favor of the city income tax'

I think we have to be thinking about all possible alternatives, including a city income tax. So I think we need to understand the current model and implications, we need to understand the Headlee Amendment override and the implications of that, and we should look at a city income tax model and the implications of that and educate the public on those three scenarios. And I would definitely support putting either of the last two on a ballot for the residents to consider. I think it would be irresponsible for us, in dealing with this whole budget, to not explore all possible options, make the case very clear as to what each of those options will mean to the public, and then put it out there and let the public speak. I think there's a lot to be said in favor of the city income tax. There's certainly some things to be said for the Headlee, but I personally don't care which one of those it is, so long as everybody understands that whatever path we take, that's what we're going to have to live by.
I think we're going to have to give direction to Roger Fraser and Tom Crawford to say, 'Look, develop these scenarios under each of those models and make a presentation to us as part of the budget deliberations and make us understand what each would involve.' And then it would have to be up to us to move something forward or not for a ballot consideration. But I would agree with many of my other colleagues that we, at the very least, owe it to the public to explain to them what the possibilities might be. We should at least have a dialogue that's out there in the community. I think we'd be selling ourselves and the public short if we didn't fully explore everything.
Stephen Kunselman, D-3rd Ward - 'opposed to a city income tax'

I have always been, and continue to remain, opposed to a city income tax that is premised on transferring the tax burden from commercial property owners to resident and non-resident working families. Furthermore, I do not trust the administration's grossly exaggerated income tax revenue predictions as they are based on the administration's assertion that over 70,000 commuters work at jobs within the city. This assertion is clearly flawed as it is based on extrapolated data from the year 2000 and most obviously does not account for the significant loss of jobs resulting from the closure of Pfizer or the state's worst recession since the Great Depression.
While I understand the dire fiscal crisis our city faces, I have little faith in the administration's proselytizing that a city income tax will be the great savior of the city's general fund. This administration promoted a fiscal policy of "borrow and build" that has led to the largest public debt our city has taken on in my lifetime - only when the administration preaches a "stop the spending" fiscal policy will I begin to think the administration is serious about the city's financial future.
Christopher Taylor, D-3rd Ward - 'we need to have an informed, wide-ranging community conversation'

As we all know, declining property values, the drop in state revenue sharing and the university's purchase of the Pfizer property have contributed to the city's structural and unprecedented multi-million revenue shortfall. The city has reduced its workforce by 25 percent over the past eight years and made other substantial efficiency improvements, but the time of easy cuts is over.
I believe that we need to have an informed, wide-ranging community conversation about our options - about what kind of city services residents want and what kind of city services residents are ready to support. I believe that the citywide conversation needs to include the possible outsourcing of city services, a possible Headlee override referendum to increase property taxes, and the possible wholesale elimination of some services/amenities. It should also include discussion of a possible citywide referendum on whether to restructure Ann Arbor's tax base to reduce property taxes by 15 percent and implement an income tax of 1 percent on residents and 0.5 percent on non-residents who work in Ann Arbor.
None of this is easy and there will be good, deserving people whose quality of life and pocketbooks will suffer no matter what we do. This is what happens in difficult times. Our job is to ensure that the decisions we make as a community balance present day expectations with our obligation to serve as stewards of the city for future generations.
Margie Teall, D-4th Ward - 'in favor of putting the question to the voters'
My neighborhood has been having an active discussion about this online, and it is my belief that as residents begin to learn the facts regarding such a proposal, they are generally in favor of bringing the conversation back and putting it before the voters. I have always been in favor of putting the question to the voters, but I recognize that this would require spending some dollars to get the facts about it out to them. This includes letting them know about possible exemption rates and exemptions for senior citizens and other vulnerable populations in the city. Many people don't realize, after all of the talk that we have had about doing this over the past six or seven years, that according to our own city charter we have to eliminate the operating property tax millage (6.1682 mills) if we implement an income tax. As Mr. Fraser pointed out (Monday) night, no other cities in the state have to operate under this restriction.
So, as much as the severe cuts to the city's budget might make people more open to considering a city income tax, they equally need to understand what it is that we could consider. Otherwise, the rhetoric from those who automatically oppose any tax at all becomes the story, and those voices tend to disregard how careful we would want to be in the implementation of a city income tax.
Carsten Hohnke, D-5th Ward - 'I don't think the income tax is a good solution for us'

I think we need to follow a two-step approach. I've been having a vigorous and constructive conversation with Fifth Ward residents about the type and quality of services that we want the city to deliver. That conversation is being reflected at council working sessions like the one we had last night. Once the community works through that, we'll have to tackle whatever gap between expenses and revenue there might (or might not) be. I don't think the income tax is a good solution for us, but I'm eager to listen to input from Fifth Ward residents. If we put the question to the voters, we have a responsibility to pose it clearly.
Mayor John Hieftje - 'it should be discussed'

For the next few months our focus needs to be on balancing the budget that begins on July 1, 2010, because even if council decided to put something on the ballot and voters approved it, new revenues would not arrive until July of 2011.
Many Michigan cities have already put a revenue increase on the ballot or they are talking about it, so it would not be a surprise if council debated this at some point. Giving the voters a choice between continued cuts or a revenue increase option is something I have been hearing about from residents. It should be discussed at some point.
If/when revenue enhancement is discussed, there are two options for cities in Michigan, both would need voter approval. Our charter requires a roll back of the property tax should an income tax pass. Because of this many residents would break even or the increase would be moderate. Others would pay more and some would pay less. Business would pay less due to the property tax break but their employees who live outside the city would pay more.
The amount of increased revenue would be influenced by several factors but the level of the exemption would be the most important. The overall millage rate for the city portion (28 percent) of property taxes is lower today than it was in 2000 because of the Headlee Amendment to the Michigan Constitution. Each year the city's millages go down a little. If voters approved a Headlee override, the millages would go back to where they started. This would result in new revenue of $6.1 million but there would still be a problem in subsequent years because property taxes and other revenue sources are expected to continue to go down in 2012. Revenues from an income tax are projected to be better able to meet funding need in future years.
Council members Mike Anglin, D-5th Ward, and Marcia Higgins, D-4th Ward, could not be reached for comment on Tuesday. In past interviews, Anglin has acknowledged opposition to the income tax proposal and Higgins has been in favor of putting the question on the ballot for voters to decide.
Ryan J. Stanton covers government for AnnArbor.com. Reach him at ryanstanton@annarbor.com or 734-623-2529.