Posted on
Wed, Nov 3, 2010 : 5:12 a.m.
It was a good night to be a Republican in Michigan, Washtenaw County GOP leaders say
By Ryan J. Stanton
Ryan J. Stanton | AnnArbor.com
Michigan turned red Tuesday night, and that brought a smile to the face of Wyckham Seelig, vice chairman of the Washtenaw County Republican Committee.
"It feels good to be a Republican tonight in Michigan," Seelig said shortly after 11 p.m. at the party's headquarters on South State Street in Ann Arbor.
"We've won the governor's race, the attorney general's race and the race for the secretary of state," he said. "And I'm told that both of our Supreme Court candidates, Justice Young and Judge Kelly, have won, so now we get a chance to turn this state around."
Indeed, it was a good night to be a Republican.
The GOP gained control of the state House and increased its majority in the state Senate, giving incoming Republican Gov. Rick Snyder allies in the Legislature as he pushes forward an agenda that includes cutting business taxes and reining in state spending.
With a 4-3 majority on the Michigan Supreme Court, the Republicans also have the upper hand now when it comes to redrawing the boundaries of state and congressional districts, which could favor the Republican Party in Michigan elections for the next decade.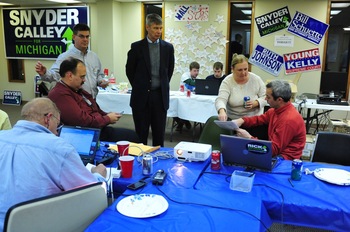 Ryan J. Stanton | AnnArbor.com
Nationally, the Republicans won the U.S. House, but the Democrats maintained control of the U.S. Senate.
Local Republicans sat around a TV set watching Fox News at the party's headquarters until early this morning, cheering every so often as the map of the U.S. on the screen turned more and more red. Timothy King, a longtime Republican from York Township and a state delegate, said Tuesday's vote was a repudiation of Washington.
"The Democrats need to understand that our founding fathers gave us a constitution," he said. "They didn't give us socialism. This is sending President Obama a message, a big message: We are not socialists. We are not communists. This is a Republic and this is what it comes down to. If you don't like the United States, get the hell out of here and go to Canada."
Seelig said Republican leadership in Lansing means one thing: Change for the better.
"We're going to have a chance," he said. "We're going to have a leadership that's going to focus on the economy and on bringing jobs back to this state and on doing things in a more orderly fashion, like balancing budgets on time."
With things going the party's way, Republican Melinda Day didn't seem to mind she lost her race for the Washtenaw County Board of Commissioners against Democratic incumbent Barbara Levin Bergman. Day, who was all smiles, said taking control of Lansing is only a start.
"I think it means that there's going to be some interesting battles ahead, because I don't think this state is traditionally red," she said. "It's just the beginning, and there's a lot of work ahead to actually bring in some more conservative thoughts to the state."
Day said Tuesday's vote was a response to "shock" at federal policies being pushed through by President Barack Obama and the Democrats in Congress over the last two years.
"A lot of people didn't like the health care bill," she said. "A lot of people have seen the stimulus bill and, especially here in Michigan, have seen the promise of unemployment not going above 8.5 percent and then seeing it rise into double digits."
Along those same lines, others said the Democrats only have themselves to blame.
"I don't think the Republicans won, I think the Democrats lost," said Eric Lielbriedis, a local Republican Party executive committee member. "Sometimes, like in the world of sports, a team just defeats itself, and I think the unions went out and poured money into the primary to defeat (Andy) Dillon and that gave them Virg (Bernero). And they had (John) Cherry before that, and they just really didn't have any leadership in their race here in Michigan."
As for the GOP takeover, Lielbriedis said: "I'm hoping it builds confidence. I'm hoping that the direction of business and job makers improves that they can begin expanding in the state."
Republican Rick Olson, who contributed to the GOP's gains by winning the 55th District state House seat, said Tuesday's election brings back memories of Reagan being elected.
"It reminds me of November of 1980 when I first got involved in politics in the state of Washington," he said. "That was a big year then, and it feels like a good year now."
Amid the many victories Tuesday night, the local GOP said its only major regret was that it was unable to unseat U.S. Rep. John Dingell, D-Dearborn. The Republicans were able, however, to deliver a knockout blow to U.S. Rep. Mark Schauer, D-Battle Creek, sending him home after one term in the U.S. House to be replaced by Republican Tim Walberg.
Ryan J. Stanton covers government and politics for AnnArbor.com. Reach him at ryanstanton@annarbor.com or 734-623-2529.