Posted on
Wed, Jan 2, 2013 : 5:57 a.m.
Ann Arbor Huron, Pioneer to accept applications for in-district transfers; Skyline, Community have open seats again
By Danielle Arndt
Freshman students living in Ann Arbor will have more options for attending high school next fall.
The Ann Arbor Public Schools officially opened enrollment to out-of-boundary freshmen at Huron and Pioneer high schools. Any incoming freshmen residing within the district but in another school's attendance boundary can apply.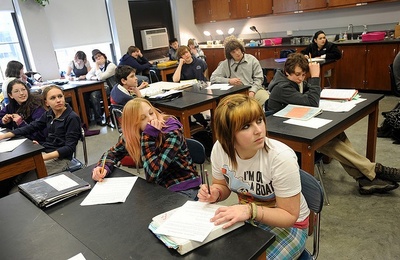 Lon Horwedel | AnnArbor.com
AAPS announced it would accept a minimum of
25 in-district transfer students
at both Huron and Pioneer.
The number of open seats was determined after assessing current class sizes, capacity data and projected enrollment numbers for the 2013-14 academic year, officials said.
Members of the class of 2017 can apply for one of the 25 seats at either comprehensive high school starting Jan. 7. The application window will end Feb. 7.
District officials said parents will be notified of the status of their transfer applications by the end of February 2013.
Freshmen accepted through the application process officially are assigned to their requested school, rather than their original school. Families of students who receive these transfers are responsible for providing their own transportation.
Application forms for Huron and Pioneer are available in Ann Arbor middle school offices or may be downloaded here. These forms can be submitted in person or mailed or faxed to the Balas Administration Building, 2555 S. State St., Ann Arbor.
Board of Education policy allows for the permanent reassignment of in-district students from one school to another, if space is available. Every year during second semester, the district announces which schools have space available and will be open to in-district transfers.
In the past, officials only opened the district's elementary and middle schools to in-district transfers. Community and Skyline high schools also traditionally have been open to in-district transfers and are again for 2013-14.
District spokeswoman Liz Margolis said AAPS intends to make decisions on which other grades and schools will be open for in-district transfers after the holiday break. School resumes for AAPS on Jan. 7.
Skyline, AAPS' third comprehensive high school, has an attendance boundary with a residency requirement. However, it also has an open enrollment process in which students who, based on residency, should attend a different comprehensive high school but want to be part of one of Skyline's magnet programs.
Skyline annually accepts up to 100 freshmen residing outside of the school's attendance area. If more than 100 students apply, a lottery is held for the available seats.
The application window for Skyline's open enrollment is Jan. 7 through Feb. 8. Students will need to confirm their acceptance by March 1, 2013 and attend a registration meeting on March 26 or March 28.
Skyline High School will host an information night Jan. 23. It will include a school tour at 5 p.m., followed by a curriculum presentation at 6:30 p.m.
Community High School is purely a choice program. Its enrollment is determined entirely by the lottery system. For fall, Community has 114 freshman seats available. This is the same number of open spots as the past two school years.
The school always has more applicants than open seats and ends up turning away 250 to 300 students annually.
Visit Community's website after Jan. 7 to download an application or pick one up at the middle schools.
To apply to Community, eligible applicants must be current eighth-graders, meet the district's residency requirements, attend an orientation meeting and submit a completed application to the school's main office by 4 p.m. on Feb. 8.
The orientation meeting dates are as follows:
Tuesday, Jan. 8 from 7-8:30 p.m.
Sunday, Jan. 13 from 2-3:30 p.m.
Thursday, Jan. 31 from 7-8:30 p.m.
Monday, Feb. 4 from 7-8:30 p.m.
Thursday, Feb. 7 from 7-8:30 p.m.
Community's random lottery drawing will take place Feb. 12.
Freelance reporter Erica Hobbs contributed to this report.
Danielle Arndt covers K-12 education for AnnArbor.com. Follow her on Twitter @DanielleArndt or email her at daniellearndt@annarbor.com.