Posted on
Thu, Mar 15, 2012 : 4:49 p.m.
It's official: University of Michigan Crisler Arena now called Crisler Center
By Kellie Woodhouse
The University of Michigan Board of Regents agreed unanimously Thursday to change the name of Crisler Arena to Crisler Center.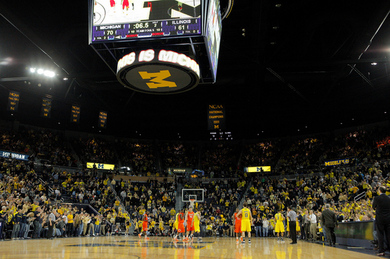 The Athletic Department began phasing in the change on its website and news releases at the start of the basketball season, but the regents' decision makes the switch official.
U-M Chief Financial Officer Timothy Slottow told the regents Thursday that because of a $52 million renovation and expansion currently under way at Crisler, the "arena" name is no longer fitting for the venue.
"Crisler Arena has basically expanded and converted to many, many things beyond just a basketball arena," Slottow told the regents Friday. "For functional reasons, for appropriateness, we would like your approval to rename."
Crisler was built in 1967 and has been called Crisler Arena since 1970.
The regents also approved a $2 million budget increase to the Yost Ice Arena renovation, which will begin in the coming months and finish before the 2012-2013 hockey season commences.
The cost of steel, bleachers and detailed historic windows rendered the $16 million renovation more expensive than originally anticipated, Slottow said.
Slottow noted that U-M already has received a $400,000 donation toward the cost of the historic windows.
"The bad news is we're asking for an increase in $2 million in the budget," Slottow told the regents. "The good news is we've already received a donation to offset that."
Kellie Woodhouse covers higher education for AnnArbor.com. Reach her at kelliewoodhouse@annarbor.com or 734-623-4602 and follow her on twitter.