It's pothole season again: Thousands of potholes in Ann Arbor and Washtenaw County keep crews busy
Posted on Sun, Mar 10, 2013 : 5:59 a.m.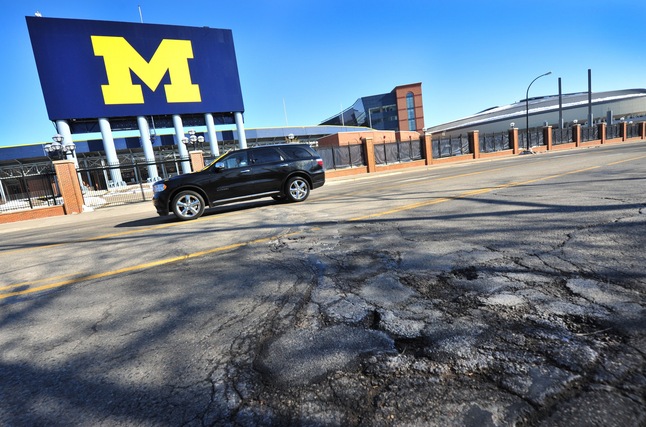 Ryan J. Stanton | AnnArbor.com

Ann Arbor resident Aparna Bankston says a nagging pothole in the street in front of her home on Baylis Drive is getting on her last nerve.

"It's pretty irritating," she said of the crater near the end of her driveway that's been growing in size as temperatures have fluctuated between warm and freezing lately.

"It's only gotten worse with the snow and ice piled on it, and then the city taking a while to make it to our neighborhood to plow, so it has cracked more," she said. "Now it's just a mess."

Luckily, Bankston said, traffic in her cul-de-sac isn't too busy, so she usually isn't coming face-to-face with another vehicle when she drives on the other side of the street to avoid the damaged area.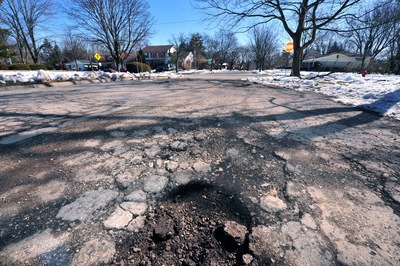 Ryan J. Stanton | AnnArbor.com
"However, that doesn't mean we wouldn't love to see it get fixed," she said.
According to Ann Arbor officials, a citizen-reported pothole will be patched within 24 weekday hours, weather and other activities permitting.
Residents can call 734-99-HOLES to report potholes in the city. They also can place a pothole repair order via the city's online request system.
Since Jan. 1, the city has received 99 citizen reports of potholes, including 34 submitted through the online system and 65 submitted by calls to the hotline.
"Pothole patching is ongoing throughout the city," said Nick Hutchinson, interim manager of the city's project management unit. "This time of the year is the toughest on our streets."
Michigan's temperatures are infamous for rapidly alternating between cold and warm this time of year, causing freezing and thawing conditions that result in street potholes.
Potholes are caused by water entering through cracks in the street and then pooling under the surface in the street sub-base. Each time the water freezes and expands, and then thaws again, the street becomes damaged, and potholes are created.
City crews regularly have been patching potholes in Ann Arbor since the end of November, said Kirk Pennington, the city's field operations supervisor.
Pennington said the workload varies with the swings in temperatures, but the city is seeing an increase in the quantity of patching material being used.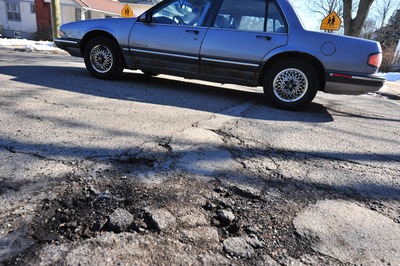 Ryan J. Stanton | AnnArbor.com
"And that is related to the aging of the roads due both to increased time intervals between repaving and reduced pavement preservation programs," he said. "Road maintenance funding has been falling or stagnant in dollar amount and has less purchasing power over the last 4-5 years."
In Ann Arbor, East Stadium Boulevard in front of the Big House consistently is cited as one of the most affected roads, which has worsened with recent freeze-thaw cycles.
Hutchinson said the road won't be repaved until 2016 when the city can capture federal funding for the project. The city's Capital Improvements Plan shows $3.34 million planned for complete reconstruction of Stadium Boulevard from Hutchins Avenue to Kipke Drive in fiscal year 2015-16.
In the meantime, motorists might experience a bumpy ride as the city tries to keep up with patching the deteriorating section just west of the new Stadium bridges as potholes emerge.
Another bad spot is Ann Arbor-Saline Road at the Interstate 94 overpass. Officials recently announced a resurfacing project planned for the area is being pushed back to 2014 after the Michigan Department of Transportation could not find the funding to make the project happen this year.
The project has been in the planning process since 2011 and is a partnership between MDOT, the Washtenaw County Road Commission and the city of Ann Arbor.
Roy Townsend, managing director for the Road Commission, said thousands of potholes are prevalent this year across the county on both paved and unpaved roads. He said the commission already has spent about $250,000 patching potholes since Jan. 1.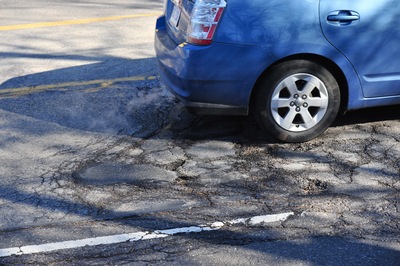 Ryan J. Stanton | AnnArbor.com
He estimates the commission will spend a total of about $1.5 million combating potholes this year when factoring in the cost of labor, equipment and materials.
He believes this year is worse than past years due to the numerous freeze/thaw cycles and a lack of investment in roads in Michigan, causing them to continue to deteriorate.
"We are finding numerous potholes on our aged pavements with moderate to heavy traffic volumes," he said. "Currently based on our 2012 pavement evaluation, over 50 percent of the roads in Washtenaw County are in poor condition, which is the same for the rest of the state."
Townsend said that's one of the major reasons why Gov. Rick Snyder is pushing for a $1.2 billion to $1.5 billion funding increase per year for roads in Michigan.
"Roads are funded with gas and diesel taxes, which have not changed in 15 years for gas and nearly 30 years for diesel," Townsend said.
The Road Commission takes care of county roads and state trunklines within the boundaries of Washtenaw County, including I-94, US-23, US-12 (Michigan Avenue), M-14, M-52, M-17 (Washtenaw Avenue), M-153 (Ford Road connected to M-14), Ecorse Road, and the Willow Run bypass.
Citizens can report potholes on county-managed roads by calling the Road Commission at 734-761-1500 or by sending an email to wcrc@wcroads.org.
Pennington said the city of Ann Arbor plans to spend $224,289 combating potholes on major city streets this year, and another $72,800 on local neighborhood streets.
Jackson, Huron, Barton, Fuller, Packard and Pontiac Trail are the major streets where potholes are most frequently being noticed, he said. The local neighborhood streets experiencing the most frequent potholes, he said, are on the city's resurfacing list for this year.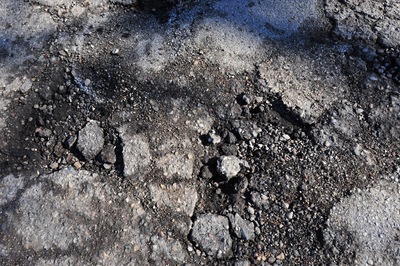 Ryan J. Stanton | AnnArbor.com
At the beginning of a temperature rise, Pennington said, the staffing might be two crews for the first two to three days, and then drop off to just one crew.
Crews make regular visits to locations where potholes are known to frequently occur to try to reduce the size or duration that a pothole might exist.
"Pothole patching is a reactionary type of task," Pennington said. "And where one wasn't yesterday, there may be one today."
Once a road reaches a certain condition or age, very little can be done to prevent potholes outside of repaving, he said.
Holes on paved roads throughout Washtenaw County are being filled by Road Commission crews with cold patch, which is a mix of an oil product and small stones.
"We place between 800 and 1,200 tons per year countywide," Townsend said, adding the commission has realized a significant cost reduction over the past few years by making the cold patch itself.
The in-house batch performs better, Townsend said, and it costs $62 per ton versus roughly $90 per ton if purchased from a vendor.
Holes on unpaved roads are being filled by Road Commission crews with limestone or gravel depending on the material with which the road is surfaced.
In an effort to help reduce the damage on roads, the Road Commission as of Feb. 25 has imposed seasonal weight restrictions, which are legal limits placed on the loads trucks can carry.
"During late winter and early spring, when seasonal thawing occurs, the maximum allowable axle load and speed is reduced to prevent weather-related breakup of roads," Townsend said. "This helps preserve the roads, but it does not prevent potholes from occurring."