Posted on
Wed, Apr 17, 2013 : 7:50 p.m.
Jack Eaton pulls petitions to run against Marcia Higgins for Ann Arbor City Council
By Ryan J. Stanton
Longtime neighborhood activist Jack Eaton is planning to run against incumbent Marcia Higgins in the 4th Ward race for Ann Arbor City Council this year.
Eaton spoke with AnnArbor.com on Wednesday after pulling nominating petitions from the city clerk's office. He has until May 14 to file 100 signatures to appear on the ballot.
Eaton, making his third try at running for City Council since 2010, would challenge Higgins in the Democratic primary in August.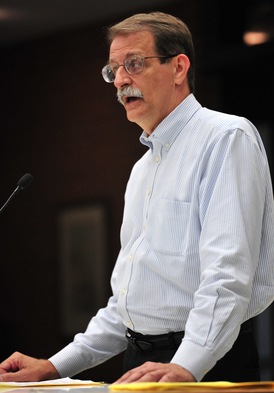 Ryan J. Stanton | AnnArbor.com
"While I hadn't intended to run this year, there have been some things that have come up that are frustrating and I just decided there's no reason to put it off until next year," he said.
Eaton came close to defeating Margie Teall, the other 4th Ward incumbent, last August. The vote count was 866-848, giving Teall 50.5 percent.
Teall also defeated Eaton in 2010, pulling 69 percent of the vote.
Many expected Eaton to run again for Teall's seat in 2014, and so his announcement that he'll be challenging Higgins this year comes as somewhat of a surprise to some.
"I came very close last year, and I expect this race to be quite competitive this year," he said.
"I think there are so many things going on right now that are important to me — that I'm afraid are going to get set aside — that I can't wait another year to run," he added. "It's not anything personal about Marcia. I like Marcia. We just disagree on some things."
Eaton, a labor attorney, is political allies with Council Members Mike Anglin, D-5th Ward; and Sumi Kailasapathy, D-1st Ward.
An outspoken critic of Mayor John Hieftje, he supported Jane Lumm, an Independent who now represents the 2nd Ward on council, in her 2011 bid to oust Hieftje ally Stephen Rapundalo.
Eaton said he's alarmed at the money being spent on commuter rail initiatives and plans for new train stations, and he's concerned about the interaction between the city and the Downtown Development Authority. He also wants to see the city increase public safety staffing.
"I just want to be there to provide a good safe vote," he said, noting Higgins often votes with the mayor on issues. "And she and I often disagree."
Higgins couldn't be reached for comment.
Eaton said there are problems that aren't getting addressed in his ward. He said he's glad to see the city finally spending some time and money to investigate neighborhood flooding issues and concerns about the stormwater and sanitary sewer systems, but that took some prodding.
"Certainly we're finally starting to study the problems again," he said. "Fifteen years ago we studied the very same neighborhoods and there were recommendations that weren't followed."
Ryan J. Stanton | AnnArbor.com
Another issue on Eaton's mind as he prepares to hit the campaign trail is the fact that the vacant Georgetown Mall remains standing long after it was promised it would be demolished.
"What do we do about buildings that are vacant for years?" he said, noting the city ran into similar problems with the Michigan Inn and the former Greek church on North Main.
"We really haven't tried to address the overall problem," he said. "We just keep hoping that Georgetown will resolve itself so it's not an issue anymore."
A common criticism of Higgins by some of her constituents is that she's hard to reach at times. Her attendance record at council meetings also has been questioned.
Eaton said he understands that council members have busy lives and they're not getting paid a lot to be in office, so he's not going to criticize Higgins for any of those things. He said Higgins has been good about getting back to him whenever he's called or emailed.
Ryan J. Stanton covers government and politics for AnnArbor.com. Reach him at ryanstanton@annarbor.com or 734-623-2529. You also can follow him on Twitter or subscribe to AnnArbor.com's email newsletters.