Posted on
Mon, Mar 28, 2011 : 4:50 p.m.
Jackson man who violently shook his mother's pet parrot sentenced to 10 months in jail
By Heather Lockwood
A Jackson man convicted of violently shaking his mother's pet parrot on an Ann Arbor street in September was sentenced to jail today for torturing an animal.
Washtenaw County Circuit Judge Melinda Morris sentenced Christopher Alan Turpen today to 10 months in jail with credit for 101 days served.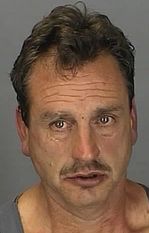 Turpen's lawyer, assistant public defender
Stephen M. Adams
declined to comment on the sentencing.
The Amazon parrot named Labamba is currently with the Humane Society of Huron Valley.
Adams said a sentencing agreement called for Turpen, 50, to receive no probation.
Matt Schaecher, supervisor of cruelty and rescue at the Humane Society of Huron Valley, told AnnArbor.com in February, it is unknown whether the bird is male or female, as the only way to determine a parrot's sex is through a blood test.
As of late February, Labamba continued to live in Schaecher's office.
Ann Arbor police told AnnArbor.com in September that Turpen, who kept the Amazon parrot in his backpack, shook it violently in the 1000 block of South Main Street as its feathers flew, causing enough commotion for three witnesses to call 911. Officers arrested Turpen on Main Street at 9:30 p.m. Sept. 21 and found an unspecified quantity of marijuana in his backpack, Ann Arbor police Lt. Mark St. Amour said.
Steve Hiller, Washtenaw County chief deputy assistant prosecutor, told AnnArbor.com last month that a controlled substance charge against Turpen was dismissed at his preliminary hearing Oct. 13.
Turpen told police he was disciplining and training the bird. Police said the parrot fought back, leaving one of Turpen's thumbs scratched and bloodied.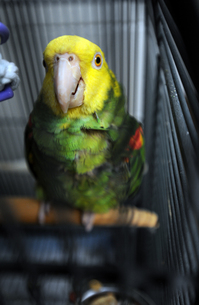 Ypsilanti Township
residents Marie Keehl and Tom Pokryfky, interested observers of the case, told AnnArbor.com last month they have rescued a number of pets, including a type of parrot called an umbrella cockatoo.
They say parrots are intelligent and have the ability to remember things in the long term.
"That bird will never forget (Turpen)," said Pokryfky. "(He) will remember that abuse forever."
Pokryfky, who attended the sentencing hearing today, said he thought Turpen should have received both a jail sentence and probation.
"It wasn't stiff enough, it was way too lenient," he said after the sentencing.
Pokryfky also expressed concern for the bird and its permanent living situation.
In February, Schaecher told AnnArbor.com, if Turpen is convicted, the humane society will seek permanent custody of the bird and attempt to adopt it out. He also said Labamba occasionally favors one of its legs, and the injury near its eye has healed.
Adams said today that Turpen would like to see the bird returned to his mother.
Schaecher could not immediately be reached for comment today and it is unclear whether the humane society still plans to seek permanent custody of the bird.
Heather Lockwood is a reporter for AnnArbor.com. Reach her at heatherlockwood@annarbor.com or follow her on Twitter.