Posted on
Thu, Sep 13, 2012 : 5:59 a.m.
Jailed landlord David Kircher's largest property headed to bankruptcy auction
By Tom Perkins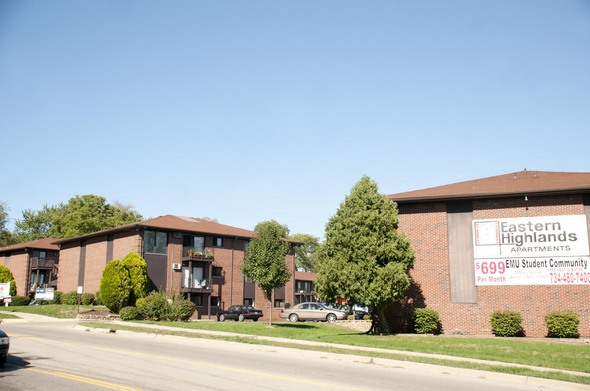 Tom Perkins | For AnnArbor.cm
The largest property owned by jailed landlord David Kircher property will soon be up for auction.
The 128-unit Eastern Highlands apartment complex in Ypsilanti Township near Eastern Michigan University's campus will be available for bidding at a bankruptcy auction in late September.
Kircher was caught pumping raw sewage from Eastern Highlands into the Huron River in 2004 and subsequently sentenced to a 5-year prison term.
Ypsilanti developer Barnes and Barnes was appointed receiver of the complex several years ago and was awarded a judgment against Kircher for more than $2 million in Washtenaw County Circuit Court for expenses incurred in bringing units in the complex up to code.
Of the 128 units, 47 are habitable. Seven are fire-damaged and gutted to the studs, and 70 are described as "shells."
The starting bid for the property is set at $500,000, and the auction will be held at the office of lawyer and bankruptcy trustee Doug Ellmann, 308 W. Huron St., Ann Arbor, on Sept. 24 at 2 p.m. It has not yet been decided whether there will be a reserve.
Ypsilanti Township records show the property was valued at $586,900 in 2010 and its value dropped to $375,900 in 2011. Brendan Cavender and Jim Chaconas of Colliers International were hired Ellmann, the court-appointed bankruptcy trustee to promote the sale of Eastern Highlands. Colliers will hold two public inspections of the property prior to the sale, and interested parties can contact their office, Ellman said.
Ellman said the complex is a good consideration for anyone involved in the rental market around a college town. All the units are two bedrooms and 1,100-square feet. Rent currently starts at $699 per month.
"I would hope that there's a bit of interest," he said. "Bidding is starting out relatively low … and we're trying to maximize value to the creditor and get highest possible bid. The property has issues, no question about that, but I think it has a fair amount of interest and I'm looking forward to a spirited auction."
The proceeds will go to pay off a long list of creditors. Kircher filed for chapter 11 bankruptcy in March and it was converted to chapter 7 bankruptcy in June.
As of April, Kircher held around $2.7 million in debt. The largest debt is to the State of Michigan, to which he owes $1.1 million, mostly stemming from a fine for dumping the raw sewage.
He also owes $112,448 to DTE Energy and $80,000 to Ypsilanti Township for legal fees. His former attorney, George Ward, is owed $25,000 for his services.
Colliers previously offered Eastern Highlands as part of a package of Kircher's other 34 properties. Around 10 of those properties were headed to tax foreclosure in April.
As with other Kircher properties, a new owner would be expected to bring the property up to code, said Ypsilanti Township attorney Doug Winters.
"Anyone who buys these properties is going to have to adhere to the township's ordinances and hopefully return the housing stock to where it once was," Winters said.
Tom Perkins is a freelance reporter for AnnArbor.com. Contact the news desk at news@annarobr.com or 734-623-2530.