Posted on
Sun, Jul 8, 2012 : 5:59 a.m.
JoAnna's story: How heroin almost killed her and still tries to steal her soul
By Cindy Heflin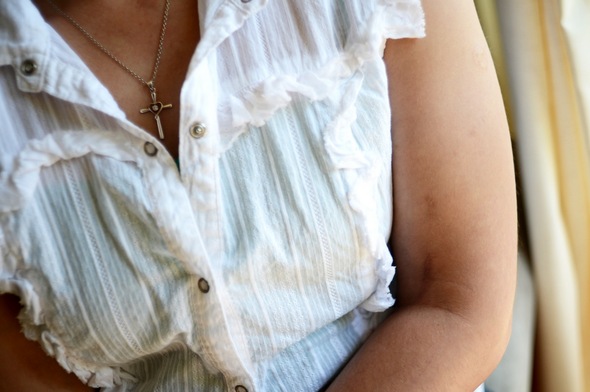 Melanie Maxwell | AnnArbor.com
Editor's note: JoAnna is a young woman who grew up in the Chelsea area and now lives in Ann Arbor. She agreed to tell her story of heroin addiction in the hope that it might help others struggling with addiction and in the hope it might warn young people away from heroin and other drugs. AnnArbor.com is not using her last name or that of her aunt in order to protect their privacy. This is the first of two stories on heroin in Washtenaw County.
JoAnna has been to hell and back, and she's determined not to make the journey again. The first trip almost killed her. Along the way, she lost her mother, succumbed to prostitution, worked as a thief, went to jail and tried to kill herself.
Heroin was the demon that sent her to the underworld of crime and desperation, and heroin still sings its siren song, trying to lure her back. But JoAnna is determined not to listen. She knows there's nothing to be gained from heeding the call and everything to lose. But resisting it will be a lifelong battle.
JoAnna's story is one that's become all too familiar to police and substance abuse professionals in Washtenaw County and in Michigan. Michigan State Police statistics show the number of arrests related to heroin increased 80 percent in Washtenaw County from 2007 to 2010, the latest year for which data is available.
The number of arrests for heroin sales and manufacturing increased 375 percent during the same period.
Law enforcement agencies in Washtenaw County say the increase in heroin abuse stems from several factors, among them an increasing and cheap supply of heroin in the area and a growing prescription drug addiction problem. Many people who become hooked on prescription opiates, such as OxyContin and codeine, eventually switch to heroin because it's cheaper.
Heroin abuse carries with it many health risks, including infectious diseases, such as hepatitis and AIDS, among others. The most immediate risk is from overdose, which can be fatal.
Deaths from heroin overdose have been rising in recent years. In Washtenaw County, 20 people died from heroin overdoses in 2011. That's up from 10 in 2010, five in 2009 and four in 2008. Comparatively, the number who died from all forms of drug overdose has been growing much more slowly. That number was 69 in both 2010 and 2011, 59 in 2009 and 53 in 2008.
The local figures mirror a statewide trend. In 2007, 104 people died in Michigan from overdoses involving heroin or heroin in combination with other drugs. In 2008, the figure was 193. By 2009, the last year for which statistics are available, it was 225.
JoAnna, now 21, understands these risks. Avoiding them is what motivates her to stay clean — that and the desire to live like "a normal person." She still bears the scars from her past life. Needle tracks are visible along her arms, and she has some unresolved health problems. But her story is one of hope, proof that addicts can break the stranglehold of heroin.
The descent into addiction
JoAnna began her journey to addiction with alcohol and marijuana. She was 13. While in high school, she partied a lot. One day a friend offered her some heroin. "She was like, you know, 'try this.'" JoAnna tried it. She liked the feeling.
At first, she only used it occasionally. But gradually, she began using more and more. She started out snorting heroin, but eventually switched to injecting.
"At some point it became an everyday thing where I started having withdrawal symptoms." She was 15. She had just finished 10th grade at Chelsea High School. She never went back.
In the meantime, her mother, who had struggled her whole life with drug addiction, also began using heroin. JoAnna introduced her to it.
"My mom asked me what I was on and I told her, and she was like, 'I want to try it. … and she tried it and she liked it."
For a while, she and her mom cleaned houses to make money to pay the bills and feed their drug habits. But JoAnna's addiction was growing. It got so bad she couldn't work anymore. She began having withdrawal symptoms every morning that lasted until she got high.
Meanwhile, the person who was selling her drugs in the Grass Lake area where she lived was arrested. A friend told her about someone in the Ypsilanti area who sold drugs. So she started going there to buy from him. Soon she was going every day.
The dealer showed her a new way to get money for drugs: Steal from stores and sell the stuff on the street. But that required a car to transport the stolen goods. So for long stretches of time, she turned to panhandling to get the money she needed for drugs.
"It became what I did every day to get drugs," she said. Most days she begged for money on the Rawsonville Road exit ramp from Interstate 94, in every season, in all kinds of weather.
"When my habit was really bad, I would usually stand out there until I got $80. It would take a few hours, but sometimes it might take an hour, and sometimes I could stand out there all day and barely have $10." Twice, she got a $100 bill.
For a while, she worked at a car wash. Someone who saw her panhandling had offered her the job. But she said her wages ended up being only about $3 an hour, so she quit.
Addiction takes her mom
Meanwhile, her mom had gone to jail after being charged with receiving stolen property. She got out after about three months and spent a couple of days with JoAnna.
"We had a really fun time," JoAnna said. She had always been close to her mother and was especially glad to see her after being apart from her for several months.
"We didn't have a mother-daughter relationship like the way a daughter should respect her mother, but we were best friends," JoAnna said.
JoAnna's mom spent two nights with her at her Ypsilanti area home. The morning after the second night, JoAnna got up and thought her mom was still sleeping. She had complained the day before about being very tired. Eventually, she went to check on her and discovered she had died in the night
JoAnna said she and her mother had used heroin, but she said it was Fentanyl that caused her overdose. Her mother was using prescription Fentanyl patches for pain. She had been taking the highest possible dose, JoAnna said. But while in jail, she had been off the patches for three months. When she started up again at that high dose, her body couldn't take it, JoAnna said.
After her mother's death, JoAnna's life began spiraling downhill even faster than before.
"I went to the funeral, but I had to get high first," JoAnna said. "Everything revolved around that." She even stole from family members at the funeral.
After the funeral, things got really bad, JoAnna said. She was panhandling still. She eventually agreed to serve as a prostitute to one man after rejecting many similar propositions.
During this period she got a car from another man she had met while panhandling. That allowed her to return to shoplifting as her primary source of income. She began stealing shopping carts full of beer and baskets full of meat from grocery stores, and then selling the goods to people in the area who were eager to buy goods at a cut-rate price - and not worried about where the merchandise originated.
"I didn't care if I got caught at the store. I was going to get my money whatever way I had to," she said.
A family's struggle to save her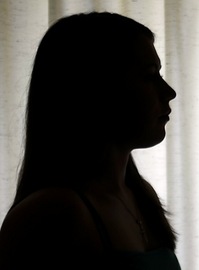 Melanie Maxwell | AnnArbor.com
At the height of her addiction, JoAnna got a call from her aunt Liz one day in June. Her aunt said something was wrong with her twin sister, but she wouldn't tell her what. She told JoAnna to meet her and some other family members at a restaurant.
Worried about her sister, JoAnna said she started "freaking out." When she got to the restaurant, she thought things were a little strange. "I was only four minutes late and they had already eaten. As soon as I sat down my aunt took my purse, and she said 'this is about you' and she gave me a hug."
JoAnna cried and told her aunt, "I know you're right." She went to her aunt's home in Ann Arbor and stayed for a couple of days, but said she didn't know how to be clean. She couldn't stand the withdrawal symptoms, including nausea, diarrhea, sweating and chills. "I ended up trying to leave, but they did everything they could to stop me."
She did leave. She called the man who had given her the car and asked for some money and the spare key. He brought them, and she went to get heroin. Her family begged her to come home. She did, but after a couple of days tried to leave again.
"They wouldn't let me leave," she said. "They were guarding the doors and stuff and took my cellphone. I said I needed to use the phone to call a family member, and really I called the police and said that I had been kidnapped by my family."
The police came and told JoAnna she looked awful and that she should listen to her family, but they also told her aunt that there was no way for her to legally force her niece to stay with her. "The police officer said she's got one foot in the grave and one foot in this world," JoAnna's aunt said. "He said you just have to let her go until she hits bottom. She ran in a torrential downpour and we could not find her."
Her boyfriend picked her up, JoAnna said. "I stayed out there and I avoided them. I lied to them a lot, telling them that I was doing the right thing. They knew that was a lie. ... I was really hard on my family, really mean to them and they were just trying to help me, but I didn't care at the time," JoAnn said. "I just wanted to feel better."
After about a month, she went to a detoxification program, hoping to get clean. Her family's intervention effort had helped her to see the harm her habit was doing.
"This experience with them showed me that it is affecting a lot of people, and it was affecting me, … like I was so tired of using, but I didn't know how to stop. "
But by the middle of the second day, she couldn't take it anymore. She said the people there tried to get her to stay, but the withdrawal, which JoAnna describes as 30 times worse than having the flu, was too much. "I told them I can't get through this withdrawal … when I'm able to just leave if I want to, and I was probably going to have to go to jail to get through it."
Seeking a way out
Not long afterward, she decided that's what she would do. She learned there was a warrant out for her arrest on a retail fraud charge, so she decided she would turn herself in. She would do it right after her mom's birthday on Aug. 21, she decided.
On Aug. 19, 2011, she told a friend about her plan. He urged her not to wait. JoAnna said he told her, "You need to do it now, because if you don't do it now you're probably not going to end up doing it."
So, JoAnna agreed to turn herself in that day if he would give her money to get high before she went to the jail. He did and that evening he took her to the Washtenaw County Jail, where she surrendered herself.
Once there, she made it through the withdrawal but became depressed over the number of charges she was facing, including seven retail fraud charges and one charge for trespassing she got while panhandling on a freeway ramp.
By the fifth day she wanted out. She called the friend and begged him to come bail her out. She told him she was clean and didn't want to use heroin. She just wanted out of jail. But that was a lie, she said. Her strategy was to get him to bond her out so she could use again.
But he didn't bail her out, and she sank even deeper into despair. So deep that one day she decided she wanted out for good. She took off her pants and tied them around her neck as tightly as possible. She was trying to kill herself.
"I didn't want to live anymore. There was nothing to live for and I felt like I just wanted to go be with my mom. I didn't want to be where I was."
A new beginning
JoAnna said a guard who just happened by saw her and saved her. She says she still suffers from some short-term memory loss, but otherwise has no other ill effects from the suicide attempt.
She's very grateful to the guard because soon after, her life took a dramatic turn for the better. "A week or two weeks after that I started to feel better. … I really was able to reflect on my life and think about what I had been doing. I liked the feeling that I had with a clear mind and not using drugs. I was in jail but I felt good for the first time in a long time."
She started attending Narcotics Anonymous meetings there. She started working toward a GED, which she completed earlier this year. And, perhaps best of all, she reconnected with her family. Her aunt, brother and sister started coming for regular visits.
"Just having my family's support felt so good," she said. "I just wanted to do the right thing, like I finally had the chance now."
She was eventually sentenced to a year in jail, but was released to treatment at Home of New Vision in Ypsilanti after four months. The two-week treatment program was helpful. Still, she worried about what would happen when she left.
But six months after getting out of jail, she's living with her aunt in Ann Arbor and still making it, one day at a time.
"I just tried and my family supported me, and I kept going to 12-step programs and did all the things that they told me to do."
She still goes to the meetings, sometimes six times a week. "Every time I go there I learn something new. … You don't even realize how many people have the same problems that you did."
She's grateful to her aunt and other family members for standing behind her, something that wasn't always easy. "People don't understand this disease," said JoAnna's aunt. "It's torn our family apart."
She continues to monitor JoAnna closely. "She's worth saving, and we love her and we just want to see her thrive."
This spring JoAnna got a job working at a local hotel and hopes to begin taking classes this fall at Washtenaw Community College.
"I had never thought that I would be wanting to apply for college or anything, but I want to now," she says. "I want to do something with my life. When you're using …. that's all you think you're ever going to be because everything is centered around the drugs. Once you get clean, you start trying to do productive things.
"... It feels good."
As she reflects on her own adolescence, JoAnna has some advice for young teens: Avoid the party scene. "Partying may sound fun at the time. But it's not worth it," she said. "It's not going to lead to anything good. "
What should kids do instead? "Do positive things," she said. "Go to the movies."
JoAnna has tough days and addiction still calls to her sometimes. Something will remind her of her past life. Or she'll have a bad day and think about using to escape. Or when things are going well, she might think of using to celebrate. "Just the randomest things will lead back to that," she said.
Recovery is pretty much a lifelong process for addicts. Estimates of relapse rates range anywhere from 40 percent to 90 percent. The good news is that a robust recovery community in Washtenaw County makes the odds against relapse considerably better here, said Jim Balmer, president of Dawn Farm, an alcohol and drug abuse treatment facility in Ypsilanti Township.
"Becoming abstinent is very important," he said, "but it's only half of recovery. Addiction is primarily a thinking and emotion problem."
Addicts need to build relationships with others who can show them how to change their thinking and behavior patterns, and learn to cope with the ups and downs of life, he said. That's why Narcotics Anonymous meetings like the ones JoAnn is attending are so important.
JoAnna understands the importance of support from others in recovery. "The meetings help remind you of where you were and where you can be," she said. "… These are what is saving my life. God and these meetings."
JoAnna has something else in her favor. In order to recover, addicts need hope, Balmer said, and JoAnna has plenty of that.
"I know as long as I stay clean things can't ever be as bad as they were. They can only get better."
Contact Cindy Heflin at 734-623-2572 or cindyheflin@annarbor.com or follow her on Twitter.