Posted on
Mon, Nov 21, 2011 : 5:59 a.m.
Ann Arbor judge was accused of 'sexually charged behavior' before resigning from bench
By Ryan J. Stanton
Julie Creal, who resigned this past week as chief judge of Ann Arbor's 15th District Court, was embroiled in a lawsuit that was settled for $82,500 before she left the bench.
Some have questioned whether Creal's resignation had anything to do with the lawsuit, which included allegations of sexual harassment against her, but court officials maintain Creal is leaving because of ill health and they regret to see her go.
AnnArbor.com obtained a copy of the lawsuit, which was filed by Wayne Wade, a former probation agent with the 15th District Court, in June 2009.
The suit made allegations about "Judge Creal's sexually charged behavior," claiming Wade was uncomfortable with "unwanted physical touching, sexual and flirtatious talk."
"Mr. Wade made at least three complaints that were completely ignored by those who were supposed to investigate them," the lawsuit states. "Shortly after his final complaint of sexual harassment, the defendant retaliated against Mr. Wade, including a reprimand, suspension, and ultimately his termination. Incredibly, one of the stated reasons for the suspension was for alleging sexual harassment against a judge."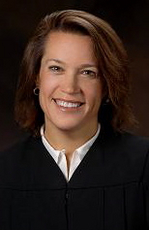 Wade sued the 15th District Court, not Creal personally. The parties agreed to settle the case for $82,500, inclusive of Wade's legal costs, shortly before trial was set to begin this year.
Circuit Judge Timothy Connors denied the defendant's motion to dismiss the case before it was set to go to trial.
"At that point, everybody was ready for this case not to go to trial," said Nicholas Roumel, the attorney who represented Wade.
Court officials were glad to put the case behind them, too.
"The court and Judge Creal deny any wrongdoing with respect to this matter and were fully prepared to litigate the matter," Court Administrator Keith Zeisloft wrote in an e-mail this past week. "However, given the reality of the high cost of litigation, settling the case was prudent."
Zeisloft said the settlement amount was the estimated cost to win at trial and handle any appeals. Under terms of the settlement agreement, he said, he couldn't comment further.
Creal could not be reached for comment.
Roumel spoke with AnnArbor.com about the case late last week. He acknowledged he hesitated on whether to take Wade's case originally.
"I had practiced in front of Judge Creal for many years and I knew Wayne Wade from being a probation agent, and I liked them both," he said. "I thought Judge Creal was always fair, and I thought Wayne was a very good probation agent, and he has a good reputation."
Roumel eventually took the case, and he still believes Wade makes a compelling argument that he was retaliated against for complaining about sexual harassment.
"Here's a guy who had good and excellent evaluations for six years, including in the middle of the last year that he worked, and he doesn't get any serious employment repercussions until he makes these complaints," Roumel said. "That was suspicious to me."
The lawsuit alleges 15th District Court officials never investigated the sexual harassment charges, but instead conducted a "secret investigation" against Wade, led by Creal, and that produced "false and trumped up charges" against Wade.
The lawsuit claims Wade wasn't given an opportunity to defend himself before his employment was "abruptly terminated" on Jan. 30, 2007.
Wade had worked for the court since July 23, 2001.
According to the lawsuit, Wade received good to excellent performance evaluations up through 2004 when he was selected by Creal to become the coordinator of the Sobriety Court, a new conceptual approach aimed at promoting sobriety in repeat drunken driving offenders.
After the move to the Sobriety Court, Wade's 2005 performance evaluation ranked him between "meets to exceeds" and "outstanding" and Creal recommended he get a higher raise than his fellow probation agents, according to the lawsuit.
"Significantly, in his last performance evaluation before his termination, in June 2006, the defendant indicated that Mr. Wade's performance was excellent," the lawsuit states.
But Wade grew frustrated with Creal's sexual advances, the lawsuit states, and at least three reports to Probation Supervisor Ann Savickas failed to resolve the issue.
"The defendant never did anything in response to all these complaints of sexual harassment," the lawsuit states. "They instead scrutinized Mr. Wade."
According to the lawsuit, Creal was going through marital difficulties that culminated with her separation from her husband around Thanksgiving 2005.
Creal often confided her problems to Wade, who was having his own issues with marital discord, the lawsuit states, but Wade was increasingly uncomfortable with Creal's behavior, including physical touching he believed was inappropriate and "sexually charged."
One of the incidents that Wade complained about to Savickas occurred after a session of Sobriety Court in summer 2006, the lawsuit states.
"Mr. Wade was standing at a counter tending to paperwork, when Judge Creal came behind him, wrapped her arms around him, laid her head on his shoulder, and held that embrace for 30-35 seconds, and then commented that she wasn't getting enough sex," the lawsuit states, adding another employee present commented: "That was a little too much information."
The lawsuit claims Wade told Savickas, "She did it again," and Savickas replied, "Ooh, she must really like you." Wade was so uncomfortable working with Creal that he repeatedly asked to be reassigned from her courtroom, the lawsuit states.
"Ms. Savickas wrote in her notes that on April 12, 2006, Mr. Wade was 'weepy and emotional,' crying twice in two days, and stating that he was uncomfortable with Judge Creal being inappropriate and hugging him," the lawsuit states.
"Despite these red flags, she saw no reason to follow up — but she did see fit to reprimand Mr. Wade for being 'rude and disrespectful' to others," the lawsuit states.
Ryan J. Stanton covers government and politics for AnnArbor.com. Reach him at ryanstanton@annarbor.com or 734-623-2529. You also can follow him on Twitter or subscribe to AnnArbor.com's e-mail newsletters.