Posted on
Thu, Aug 2, 2012 : 5:57 a.m.
July temperatures set a new record
By Amy Biolchini
The average temperature in Ann Arbor during the month of July ranks as the highest in recorded history, at 78.9 degrees, according to weather observers at the University of Michigan.
The previous record for July was set last year, at 78.6 degrees, according to University of Michigan weather observer Dennis Kahlbaum. The normal average for July is 72.7 degrees.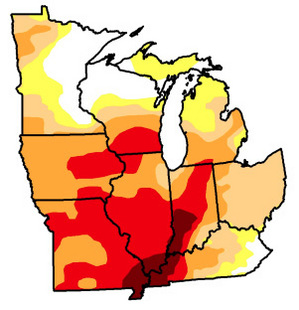 Courtesy of U.S. Drought Monitor
Michigan is on the northeastern fringe of a
widespread drought
that has gripped the Midwest, and Washtenaw County's drought condition has been categorized as "severe" as a result of the exceptionally hot summer and low precipitation.
Though precipitation amounts have varied across U-M's campus, the North Campus weather station received rainfall that was almost two inches short of normal for July, making it the 38th driest July since 1880.
So far, 2012 is stacking up to be the 18th driest year on record. The North Campus station has received 14.85 inches of precipitation -- 6.71 inches short of normal -- as of July 31.
The last time Michigan saw drought conditions this severe was in 1988, said Jeffrey Andresen, associate professor at Michigan State University and the state's climatologist.
Unfortunately, the drier weather is occurring during the time when plants need water the most, Andresen said. Because of the warmer conditions earlier than normal in the year, soil moisture reserves were used up by plants as early as June.
The forecast for August suggests above-normal temperatures for Michigan and a fair chance for near-normal precipitation, Andresen said.
However, the forecast for the next three months as a whole calls for below-normal precipitation totals.
"Temperatures have been above normal almost the entire time," Andresen said. "We don't see that very often."
Southeast Michigan has been "unusually warm" in 2012, with a mild winter and the warmest March on record preceding the summer drought, Andresen said.
"The sobering news is, it took some time … even more than a couple months to get into a serious drought situation, and it will take a considerable amount of time to get out of it," Andresen said.
Though the extended hot, dry weather is consistent with some climate change projections, Andresen said links between the two are only speculative at this point.
Amy Biolchini covers Washtenaw County, health and environmental issues for AnnArbor.com. Reach her at (734) 623-2552, amybiolchini@annarbor.com or on Twitter.