Posted on
Thu, Sep 16, 2010 : 12:02 p.m.
Jury acquits Chelsea man of felony charges in motorcycle crash that killed two teenagers
By Art Aisner
A jury on Wednesday acquitted Chelsea resident Eric Smallwood on multiple felony and misdemeanor charges stemming from his role in a motorcycle crash that killed two teenagers in Sharon Township in 2008.
Smallwood, 21, was convicted of a misdemeanor count of allowing alcohol consumption by minors at his home before the Nov. 7, 2008 crash off Sylvan Road. However, jurors determined he was not guilty of allowing intoxicated persons to operate a motor vehicle and causing the deaths of Ian Hughes, 18, and Anna Herter, 16. He had faced up to five years in prison.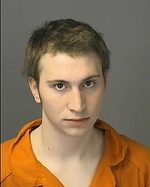 "We based this case on the idea of lack of knowledge, and I just think there was a lack of evidence that Eric Smallwood knew Ian Hughes was intoxicated when he allowed him to ride his motorcycle," said Daniel Geherin, Smallwood's attorney. "This was a tragedy but not a crime."
Smallwood could be sentenced to a maximum of 30 days in jail on Oct. 12. Geherin said he has already served longer than that since his initial arrest in the spring of 2009 and a subsequent bond violation.
Court officials said the jury deliberated for roughly four hours after hearing two days of testimony from investigators and friends of both Smallwood and the teenagers who died.
Authorities said Smallwood and the other teens partied at his home before they began racing on Smallwood's four-wheeler and dirt racing bike on Sylvan, Heim and Grass Lake roads. A hunter found Hughes and Herter the following morning in a deep, wooded slope off the roadway, not far from a sharp turn. They died of severe head injuries and weren't wearing helmets, reports said.
Last year, Circuit Judge Donald Shelton dismissed the felony charges following a preliminary hearing where Smallwood's attorneys argued there were too many unknowns about the crash investigation to parcel out blame.
The Michigan Court of Appeals reversed Shelton's ruling, and prosecutors ordered a thorough analysis of the crash in April.
"We thought we were right on that law and appealed and it's up to the jury to determine the facts. We respect their decision," said Joe Burke, the county's chief assistant prosecutor.
Geherin said Hughes showed no signs of being intoxicated and never conveyed to Smallwood or the others that he was under the influence, which prosecutors had to prove to substantiate the charge.
Smallwood didn't testify and is still coping with the tragedy, Geherin said.
"(Hughes) was one of his best friends that died, and it's never been easy for him in terms of that, and in terms of having these serious charges weighing over his head," he said.
Art Aisner is a freelance writer for AnnArbor.com. Reach the news desk at news@annarbor.com or 723-623-2530.