Wall Street Journal:

Karl Rove takes aim at Barack Obama's University of Michigan speech

Posted on Thu, May 6, 2010 : 4:40 p.m.
In an opinion piece in The Wall Street Journal, Karl Rove takes President Barack Obama to task for his call for civility in political discourse issued at Saturday's University of Michigan commencement address.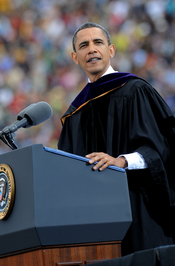 Calling Obama the Moralizer in Chief, Rove said Obama needs to take his own advice to heart and rein in the speech of Democratic leaders.
"He could start by having a conversation with Speaker Nancy Pelosi, who condemned those with different views on health care as being "un-American," Rove wrote, "He might also share a word with Senate Majority Leader Harry Reid, who recently accused Republicans of being "anti-American" and wanting to continue to "make love to Wall Street" by pressing for changes in a bill regulating the financial industry."
Rove went on to criticize Obama for his own words, citing instances when Obama has "accused his critics of spreading 'bogus claims' and 'lies' and of being 'cynical' and 'irresponsible.'"
He concludes: "Presidential leadership matters as much as presidential words, perhaps more. Mr. Obama should back up his inspiring call to civility with action."
Read the entire article in the Wall Street Journal.