Kittypalooza: With abundance of cats and kittens, Humane Society offers adoption specials
Posted on Sat, Jun 16, 2012 : 5:57 a.m.
If you're in the market for a pet, the Humane Society of Huron Valley has a deal for you.
It's Kittypalooza at the Humane Society shelter Sunday, when you can take home a pair of kittens for almost half the regular cost.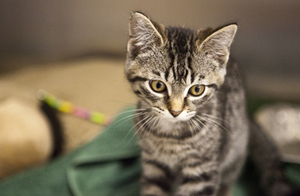 Photo courtesy of the Humane Society of Huron Valley
As often happens in the spring and early summer, the shelter is overflowing with cats and kittens. To help reduce the numbers, the shelter is running its Kittypalooza kitten adoption special every Sunday through Aug. 27.
It normally costs $100 to adopt a kitten, but during Kittypalooza the cost is $80 for the first kitten and $40 for the second. The kittens must go to the same home. That's because kittens do better in pairs, said Deb Kern, spokeswoman for the Humane Society. They play together and present fewer problems for their owners and become great lifelong companions, she said.
The shelter has 202 kittens in foster care, Kern said, and will have 60 available for adoption this weekend. All kittens have been spayed/neutered, are up-to-date on vaccinations and come with a microchip ID.
The shelter also has a special on adult cats, and Kern encourages area residents to consider adopting an adult cat instead of a kitten. The shelter has 105 adult cats, and she said they are often overlooked in favor of cute kittens.
Adult cats are less destructive to furniture and other items in the house and are often better for families with young children, Kern said.
The Humane Society is offering adult cat adoptions for a minimum of $30 in a special it's calling "Pick Your Cat, Pick Your Price." The organization hopes those who can afford to pay more will do so. All cats are spayed or neutered, up-to-date on vaccinations and have a microchip.
Especially plentiful at the shelter are black cats and kittens, Kern said. They generally take longer to adopt out because people are superstitious about black cats or just prefer other colors. "Sadly, black cats are really wonderful guys," Kern said. The video below highlights some black cats at the shelter.
The shelter, 3100 Cherry Hill Road, Superior Township, is open from 11 a.m. to 5 p.m. For more information visit the organization's website.