Posted on
Sun, Oct 16, 2011 : 5:59 a.m.
Lack of funds threatens overnight warming center for homeless in Ann Arbor
By Cindy Heflin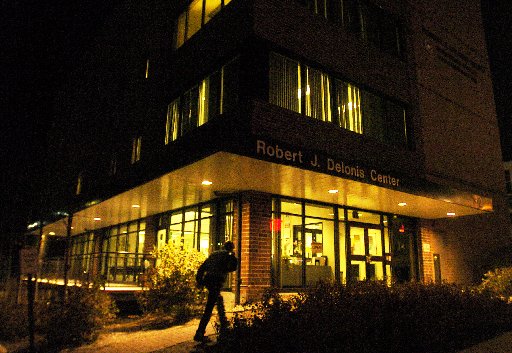 File photo
Dozens of homeless people in the
Ann Arbor
area could be left to fend for themselves during bitter cold nights this winter if the
Shelter Association of Washtenaw County
cannot find private donations to run its overnight warming center.
"We've experienced a number of cuts," said Don Austin, chief operating officer. "We don't have the money in our budget to be able to run it."
But several individuals and organizations have stepped up to say they want to provide the money to fund the program for this winter, he said. The goal is to then figure out a funding plan to keep it operating in future years as well.
Austin said details still need to be worked out, but he's hopeful the money will come through. About $80,000 is needed to operate the program from mid-November through about mid-March at the Delonis Center, 312 W. Huron St., Ann Arbor.
"We love this program and the community does, too," he said. "A lot of people are very concerned. It's very much a needed program for folks who are out there in the cold weather."
The program runs in addition to the shelter's year-round residential program, which accommodates 78 people at the Delonis Center, and a program rotating among several churches in the area that shelters 25 people during the winter.
Jeff Fulkerson, 26, said he stayed at the warming center every night last year and expects to need it again this year. He said he hopes to be working soon at a fast-food restaurant and wants to move into transitional housing, but doesn't have anywhere to go until that happens.
People would likely freeze to death or be seriously injured without the warming center, he said. "The warming center is needed … and if they don't have it this year it's going to be a problem for the ER," he said.
Last year, the warming center accommodated more than 60 people on some nights, Austin said. But this year, if funding is available, it will be limited to 25, he said, and it will be staffed with at least two employees.
"Our experience has told us that having a warming center with that number of people with only one staff member was just not the way to do it," he said. Police had to be called on a number of occasions, he said.
The association also plans to institute a better screening process this year, he said. Some people may have abused the warming shelter last year, staying there when they actually had other options, he said. The warming center is meant to be a "safe place for those people who absolutely need it."
This year, residents of Camp Take Notice who need overnight accommodations in cold weather will be first in line for beds at the warming center, Austin said. Then it will take in others who have nowhere else to go. Camp Take Notice is an encampment of homeless residents in Scio Township.
Since 2009, the Shelter Association has had about $409,000 cut from its budget and is facing a $320,000 deficit this year, Austin said.
Even if the private funding comes through, Austin is worried it's not enough to meet the need in the community.
"I'm afraid we're probably going to have to turn people away," he said. "That's what I worry about. We can only do so much, and there may be occasions when somebody has a legitimate need and we just can't do anything for them."