Posted on
Thu, Jan 7, 2010 : 10:16 a.m.
Lack of social support risk factor for depression in pregnancy, University of Michigan study finds
By Tina Reed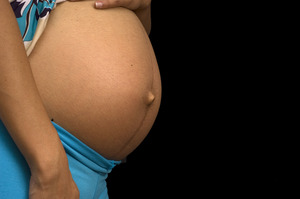 Some women are a greater risk of experiencing depression while they're pregnant than others, largely because of life stressors, a recent University of Michigan study found.
Factors that largely contributed to a woman's risk of depression while pregnant included how much social support she received, whether her pregnancy was intended and her mental health history, the study found. 
Risk factors for depression in pregnant women also included maternal anxiety, domestic violence, relationship factors and dependence on public insurance.
The study was meant to look specifically at women's mental health status while pregnant, rather than the more widely studied post-partum depression, because it can have severe health implications. An estimated 12.7 percent of pregnant women experience depression.
"Depression has been associated with adverse outcomes for both mom and baby, including pre-term delievery, pre-eclampsia, sleep disturbances for both mom and baby, and maternal-infanct attachment effects, in addition to its impact on the mother's daily quality of life," said Christie Lancaster, lead author and U-M clinical lecturer in the Obstetrics and Gynecology department.
Authors in the study concluded it's important for clinicians to be aware of the risk factors for depression for effective screening of pregnant women. The study was published in the January issue of the American Journal of Obstetrics and Gynecology.
Colds are costly, says quoted U-M research
At least 1 billion people suffer colds in the United States every year, and there's really no surefire way to get rid of them, a Shreveport Times article said today.
That's a big deal since at least 22 million school days are lost every year in the U.S., according to U-M research quoted in the piece dispelling the myths of surefire cures for the common cold.
In all, that likely adds up to $40 billion a year in lost productivity, according to U-M research.
Tina Reed covers health and the environment for AnnArbor.com. You can reach her at tinareed@annarbor.com, call her at 734-623-2535 or find her on Twitter @TreedinAA.