Posted on
Fri, Oct 5, 2012 : 9:11 a.m.
Lane closures planned as MDOT removes U.S. 23 traffic shift
By Cindy Heflin
Motorists will encounter lane closures on U.S. 23 in Livingston County this weekend and Monday as the Michigan Department of Transportation removes what it calls a "split-merge" configuration for a construction project.
MDOT said motorists would encounter a single lane closure on southbound U.S. 23 from Interstate 96 to Lee Road from 10 a.m. to noon Friday as crews do bridge painting there and remove a traffic shift.
Saturday, one lane will be closed on southbound 23 at Silver Lake Road from 7 a.m. to noon
Monday, MDOT expects to close one lane of southbound 23 from I-96 to Grand River Avenue from 10 a.m. to 2 p.m.
The Brighton Press and Argus reported that the Silver Lake Road ramp to southbound US-23 would be reopened Saturday. The ramp has been closed since August, according to the MDOT website.
Once MDOT removes the split-merge configuration, two lanes will be maintained in each direction on U.S. 23 with a traffic shift at the Huron River bridge, the newspaper reported.
MDOT is preparing to wrap up work on a U.S. 23 corridor improvement project in Livingston County. Read more about it on the MDOT website. The website also has interactive road construction maps.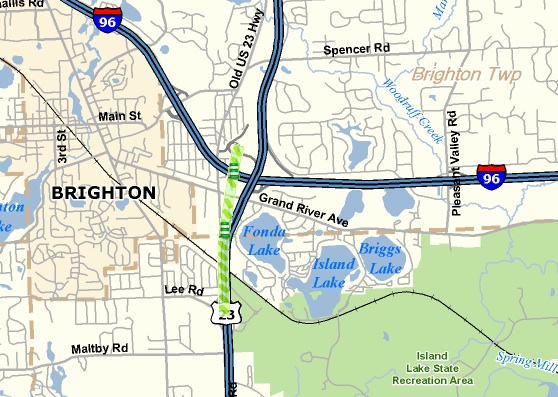 MDOT map