Posted on
Sat, Dec 22, 2012 : 3:13 p.m.
Late shoppers coping with the rush as Christmas quickly approaches
By Lisa Carolin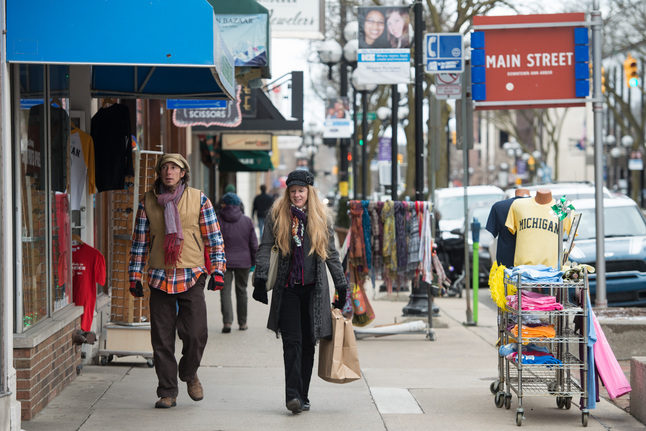 Courtney Sacco | AnnArbor.com
Three days and counting until Christmas, and shoppers are out in force. Though the lines were moving right along at Target on Ann Arbor-Saline Road, they extended 20 shoppers deep.
Matt Schimmel of Pinckney was loading up on toys for his godson.
"I am definitely a last-minute shopper," said Schimmel. "I do most of my shopping online at Amazon.com, but it's too late for that. I'll most likely take the easy way out for my other gifts and get gift cards."
Abe and Ian Rosentreter, brothers from Ann Arbor, are both admittedly chronic last-minute shoppers and were pushing a full cart around Target.
"We work a lot, and we're procrastinators," said Abe Rosentreter.
"We hate shopping, but we have to get gifts for our mom, sister, girlfriends and nieces," said Ian Rosentreter.
They say they enjoy crowd watching.
In the crowd was Amanda Reznick of Ann Arbor, who has been shopping through November and December for Christmas presents. Today's haul included stuffed animals. As she pondered what else she still needs to buy, she said, "There's still Monday!"
Janet Tucker just needed one more gift for her granddaughter.
"There are better sales today than I expected, but you don't find everything you want when you shop this late," she said.
Kristin Hoffman-Peavler from Saline knew exactly what she wanted-two white elephant gifts for a Christmas party today.
"I found this giant nutcracker that is ugly as sin and some ugly knee-high Christmas socks with fur on top," Hoffman-Peavler boasted.
Inside Nickels Arcade off State Street in downtown Ann Arbor, Kim and Joel Behrman of Maumee, Ohio were toting shopping bags.
"We came to Ann Arbor for the kinds of things we can't find where we're from," said Kim Behrman.
"We're able to get unique presents for our daughters here," said Joel Behrman.
Dan Powell and his 8-year-old son, Duncan, live in Ann Arbor and chose to shop today for socks and chocolates for the women in their family.
Karl Ivins, an avid Michigan Wolverines football fan, drove two-and-a-half hours from Bristol, Indiana to load up on Michigan sports apparel for his family at the M Den.
Alana and Emily Assenmacher came from Novi and Canton respectively to shop for their brother.
"He is a big Michigan fan," said Emily Assenmacher, while sister Alana, a student at Michigan State, endured their maize and blue surroundings.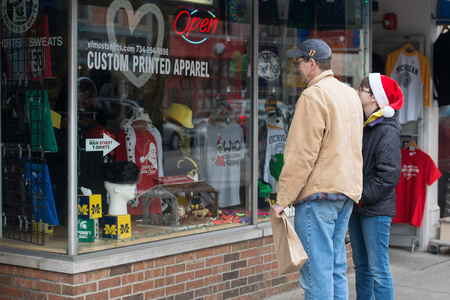 Courtney Sacco | AnnArbor.com
Kim Hurt of South Lyon and Catherine Stadnicar of Farmington Hills were enjoying browsing at
Cherry Republic
on Main Street.
"We like all the Michigan-oriented stuff in Ann Arbor," said Hurt.
"We're finding a lot of stocking stuffers today," said Stadnicar.
"We're also looking for personal gifts today because those are harder to find," said Hurt.
Pam Horvath of Chelsea made her final shopping stop of the season at Cherry Republic.
"I'm not a shopper and buy almost everything online, but I know about this store and am picking up my final gifts for my sisters," said Horvath.
Her mom, Alma Horvath, who is visiting from Ormond Beach, Florida, was tagging along but not doing any serious shopping.
"My gift to my family is my checkbook," she said. "That's the easiest, and that's what my kids like best."