Posted on
Fri, Feb 15, 2013 : 5:58 a.m.
University of Michigan opens first 24-hour cafe
By Kellie Woodhouse
University of Michigan students looking to fuel their late-night studying now can walk to the Diag for a coffee, sandwich or pizza at the school's first-ever 24-hour dining option.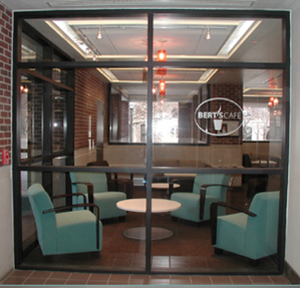 U-M photo
U-M has extended
Bert's Cafe's
operating schedule to all hours during Sundays through Wednesdays. The cafe, in
Shapiro Undergraduate Library
on central campus, is the only 24-hour eatery on campus.
U-M student government president Manish Parikh began lobbying administrators for the 24-hour cafe in August. However, an all-hours cafe wasn't a possibility until the university transitioned Shapiro Library to a 24-hour schedule in October.
When running for student council in spring 2012, Parikh told voters he would push for the opening of a 24-hour cafe.
"It was our No. 1 campaign promise," Parikh said. "Students were... up studying late at night but didn't have coffee."
Student government had to first assess student demand for a 24-hour cafe before the university would implement it. A survey of more than 1,000 students found sufficient demand, Parikh said, and so the school launched the 24-hour cafe in mid-January.
Prior to extending the cafe's hours, the closest all-hours coffee option for students was the Starbucks at Arborland Shopping Center, 3601 Washtenaw Ave., said U-M food services director Keith Soster.
If the cafe is sufficiently frequented this semester, the school will open it again next semester.
"We consider this a pilot right now," Soster said. "We'll do a follow-up assessment and survey and we'll decide if it's truly sustainable from a financial standpoint."
On recent nights, the cafe has averaged between 150 and 170 transactions from 1 to 7 a.m.
Students who want to visit the cafe or library have to use their identification cards to gain access. The cafe will be staffed by two employees at all times.
Soster said Michigan State University also has a 24-hour cafe and offered U-M officials advice prior to extending Bert's Cafe's hours.
Kellie Woodhouse covers higher education for AnnArbor.com. Reach her at kelliewoodhouse@annarbor.com or 734-623-4602 and follow her on twitter.