Posted on
Sun, Nov 13, 2011 : 5:55 a.m.
Ailing economy taking a toll on our health, latest county survey shows
By Lisa Carolin
The latest statistics about the health of Washtenaw County residents might surprise you.
Twenty-two percent of adults in the country reported being diagnosed with depression in 2010, and 14 percent reported 10 or more poor mental health days in the month before they were surveyed.
Overall, the general health of more than 12 percent of the county's population is reported as being fair or poor.
Those numbers are from the 2010 Health Improvement Plan (HIP) Survey, a survey of 2,000 local households that has been done in Washtenaw County every five years since 1995.
Adreanne Waller, of the Washtenaw County Health Department, says that as the economy has worsened, so have mental and physical health.
"Hopelessness, unemployment, lack of housing stability, and fewer educational opportunities all contribute," said Waller. "Unfortunately, poor economic conditions have long been linked to poor mental health, including depression, anxiety, suicidal thoughts and attempts."
Nearly 11 percent of those surveyed in Washtenaw County said they couldn't afford health insurance, which increases the chances of illness and disability.
"Lack of health insurance reduces likelihood that individuals will have medical conditions diagnosed and treated," said Waller. "Health insurance increases the likelihood that individuals will have a consistent relationship with a single health-care provider who is aware of ongoing health and medical needs for the patient."
Michigan is the 10th fattest state in the nation, and every county in the state continues to get heavier.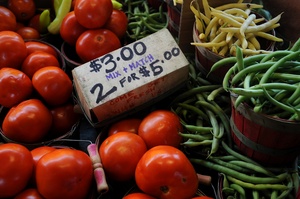 Melanie Maxwell | AnnArbor.com
"When comparing our county as a whole with the rest of the state on key indicators, our county appears healthier on several of them," said Keven Mosley-Koehler, senior health analyst and HIP coordinator.
She said 66 percent of Michigan's population is overweight as compared to 59 percent in Washtenaw County. The rate is 67 percent in Ypsilanti, 63 percent in Western Washtenaw, and 50 percent in Ann Arbor.
The consumption of five servings a day of fruit and vegetables is down from nearly 25 percent of people in Washtenaw County in 2005 to 17.6 percent in 2010. Waller said there are 33 percent fewer grocery stores per capita in the county in the last three years and that restaurants and fast-food vendors are filling the void.
However, the popularity of farmers' markets in the county has increased in recent years.
"The Ann Arbor Farmers Market has experienced a more robust interest in locally produced and sourced items," said Cathy King, from Frog Holler Farm in Brooklyn, Michigan. "The positive comments from our customers all seem to center around the local products and the direct contact with the growers and the superior quality of fresh produce."
Other vendors at the Ann Arbor Farmers' Market, such as Mark and Joanne Wilson of Wilson's Farm in Tipton, agree.
"We have seen an increase in our business at the Ann Arbor Farmers Market over the last five years," said Mark Wilson. "Our customers say they love our produce, especially our heirloom tomatoes, and they enjoy how we display them."
Amanda Edmonds is the executive director of Growing Hope, the Ypsilanti-based nonprofit, which has run the Downtown Ypsilanti Farmers' Market since 2006. She has seen a big increase in people purchasing fruits and vegetables.
"We were one of the first farmers' markets in the state to accept food stamps for fruits and vegetables and we have seen a growing number of people who want that access," said Edmonds. "Our work is on a small scale though, and many people with low income levels turn to cheap calories like fast food and other unhealthy food."
Saline resident Lana Stiebe said she's healthy, but doesn't eat a healthy-enough diet.
"I'm making subtle changes," she said. "I've suffered with weight issues all my life and I never stop trying to change that."
"I've been following Weight Watchers for 10 years and sometimes I fall off the horse," said Dexter resident Nancy Larrow. "I know what I need to do, but I don't always do it, like eating enough servings of fruits and vegetables."
Dave Starinshak, a graduate student at the University of Michigan, lost 35 pounds.
"I started eating much more healthily the last few years, packing lunches and not eating out as much, and I feel great," he said.
Mosley-Koehler said that improving people's health in the county and in the state will help revive Michigan's economy.
"Creating a culture of health is the key to Michigan's economic transformation," said Mosley-Koehler. "Even small changes in health, such as moving more, eating healthy and not smoking, have the potential to transform both the costs Michigan employers are now burdened with, as well as the health of Michiganders. Employers' health insurance premium rates are a major determinant of where they locate. To reduce Michigan's premiums and health care costs, our health must improve."
The Health Improvement Plan is a public-private partnership of more than 25 organizations and 300 individuals led by Washtenaw County Public Health, which uses the survey to work with partner organizations to support healthier choices.