Posted on
Tue, Aug 17, 2010 : 10:27 p.m.
Republican nominee Rick Snyder calls for growth and reform during town hall in Chelsea
By Ronald Ahrens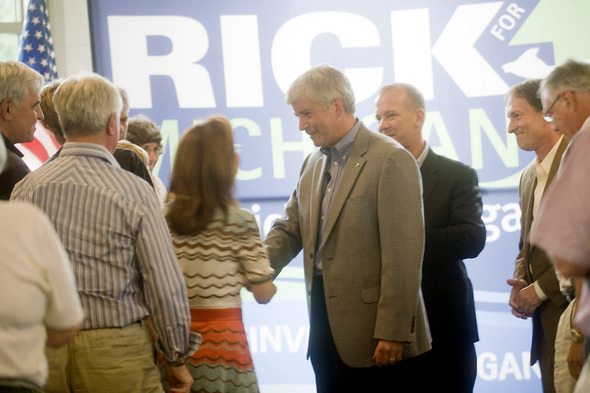 Melanie Maxwell | AnnArbor.com
Michigan needs to be reinvented, and business growth and tax reform are the keys.
Republican gubernatorial nominee Rick Snyder delivered that message to 125 people who crowded into the historic Chelsea Depot for an hour-long town hall meeting on Tuesday evening. A campaign staffer said about 70 people had received personal invitations, although the event was open to the public.
In Snyder's first campaign appearance since winning the Aug. 3 primary, the Ann Arbor businessman reemphasized his 10-point formula for revitalizing Michigan and called for fire and passion from his supporters.
He said his corporate management experience would tame the state bureaucracy and create public-private partnerships to fill in when state funding fell short.
"One of the things I'm proud of is, I think I'm the first real manager running for office in a long time," he said.
Melanie Maxwell | AnnArbor.com
In addition to his private business background, Snyder referred to his experience as the first chairman of the Michigan Economic Development Corporation "under Governor (John) Engler, when it worked well—it was actually one of the leaders in the country." He also mentioned his role in the creation of Ann Arbor SPARK.
The "comeback" of Michigan won't be due to the wooing of out-of-state corporations, Snyder said. Instead, local businesses must be allowed to grow.
"Government is not qualified nor competent to pick winners and losers," he said. "It's about creating the most competitive playing field."
Tax incentives for the location of businesses have been overused "like popcorn and candy."
Snyder drew loud applause when he said, "The comeback of Michigan is going to be based on Michiganders creating and growing small businesses."
The work of actor and Chelsea resident Jeff Daniels received a mention from Snyder.
"We've got an environment now where we're killing job creation through the Michigan business tax. It is absolutely awful," he said.
Snyder said the creation of the 2007 tax is "like Lansing went to the video store and rented 'Dumb and Dumber.'"
Retaining local talent by salvaging cities - including Detroit - will also be a major emphasis in reinventing the state, he said.
Snyder used the appearance to take a warm-up punch at Democratic candidate Virg Bernero.
"I think you're going to find a fundamental choice," he said of the Nov. 2 general election.
"If you like how our government works, if you like how our bureaucracy works and our political system works, I encourage you to look at the other candidate. That's the world he lives in. That's the world he loves."
Their first debate is scheduled for Sept. 21.
During the question-and-answer period, Snyder was asked about educational reform. Besides standardized testing, he suggested every child "travel" with a portfolio of work that proves basic skills.
After teachers receive all the needed help, after overhead is minimized in school districts, then funding issues should be addressed, he said.
"We do need to invest in our educational system because it's critical for our future - we're talking about our kids," Snyder said. "But let's do it in a much more smart fashion and say it's about outcomes and results, not simply spending a million dollars a grade."
Don Graham, who said he drove 60 miles from Allen Park to hear the candidate, took the microphone first during the question and answer period.
In response to Graham's question about how to get a balanced budget done on time, Snyder called for transparency and a "real balance sheet and financial papers in real English."
"I like him because he doesn't mistake activity for accomplishment," Graham said.
Ronald Ahrens is a freelance writer for AnnArbor.com. Reach the news desk at news@annarbor.com or 734-623-2530.