Posted on
Wed, Dec 19, 2012 : 5:59 a.m.
The pebble in the pond: Laurence Carolin's gift to research at the University of Michigan continues 3 years after his death
By Amy Biolchini
Daniel Brenner | AnnArbor.com
It took
Laurence Carolin's
death to influence the kind of change in the world at a scale that he had dreamed of for much of his 15 years on the planet.
With the knowledge that a tumor lodged in the center of his brain was inoperable, the Ann Arbor-area teen carefully weighed his options. After meeting his hero Bono, the frontman of U2, months before Laurence's death Jan. 15, 2010, Laurence told his doctors at the University of Michigan that he wanted to donate his brain to science.
Many have described Laurence's gift as a pebble thrown into a smooth pond. Almost three years after his death, the ripples are still resonating.
As the first pediatric patient of the University of Michigan Medical School's Department of Neurosurgery to donate his brain for study, Laurence's bravery and memory has inspired the program to grow into a bank for promising new research.
A unique life
Scientists know Laurence's brain only by a number and a clinical set of characteristics: 15 years old. Male. Infiltrated by a deadly, glioblastoma multiforme tumor the size of a baseball in the middle of his brain.
The community at large knows Laurence for his selfless attitude, and relentless spirit of giving even as his cancer progressed. The tumor gave Laurence a bittersweet sense of fame in the Ann Arbor area for the final two years of his life after the cancer was discovered three days after Christmas in 2007.
After his diagnosis, Laurence keenly researched hunger issues in Asia and South Africa. He felt compelled to solve the problem of extreme poverty.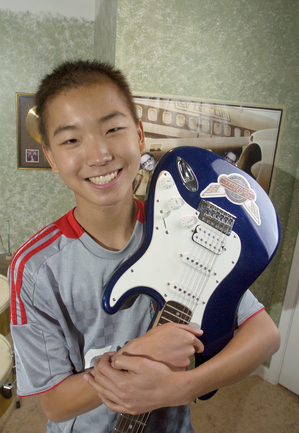 File photo | AnnArbor.com
"I was dealt these cards, and I have to play them out, the best I can," Laurence told
Ann Arbor News
reporter Jo Mathis in a May 2009 interview. "What keeps me going are my great friends, and music, and the hope that more people would be aware of what's happening in Africa and what can be done. I believe extreme poverty in Africa is a totally doable thing to overcome."
When Laurence realized he wouldn't be able to end world hunger in his lifetime, he decided to give the only thing he had left to help the world: His body.
For his parents, Laurence's decision was not surprising.
Lisa Carolin of Scio Township and Pat Carolin, now of Tennessee, met the son they were adopting when he was five months old in a terminal at Detroit Metro Airport in Romulus, where he had just arrived on a plane from South Korea.
At a young age Laurence discovered his love of cooking, and was raised on jazz, classical music and rock instead of nursery rhymes. As his parents had both been involved in the news business for some time, Laurence grew up with a uniquely worldly perspective for a young boy.
"Laurence made it easy," Lisa Carolin - who freelances for AnnArbor.com - wrote about the experience of raising her only child in a column in the Livingston Community News after Laurence's death. "I am so lucky."
Though Lisa and Pat divorced early in Laurence's young life, they maintained a friendly relationship and lived in the same Loch Alpine neighborhood until 2007 to help raise Laurence.
"His mom was raised Jewish and I was raised Catholic, when you mix that in with someone who was born in South Korea … He was very mature and very much a kid of the world," Pat Carolin said.
A talented, outgoing boy, Laurence was a dedicated midfielder with various teams with the Dexter Soccer Club and had picked up a number of instruments -- piano, French horn, and acoustic guitar -- before his world was eclipsed by the electric guitar.
Before his brain tumor was discovered, Laurence had experienced strong headaches, fatigue and depression so severe he turned suicidal. A fan of classic rock bands all his life, Laurence turned to the music of U2 to keep his thoughts on track.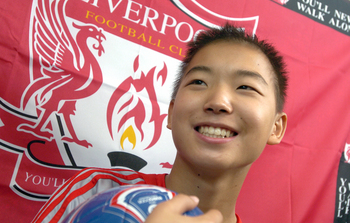 File photo | AnnArbor.com
The
Make-A-Wish Foundation
attempted to connect Laurence with U2 lead singer
Bono
. When the meeting could not be arranged, Laurence directed Make-A-Wish to donate $5,000 to the
United Nations Foundation
instead.
It was later discovered that all of his initial symptoms were caused by the fluid that had built up around the tumor in the middle of his brain. Though doctors at U-M were able to remove the fluid -- which caused the symptoms to immediately stop -- the prognosis for the tumor was not good.
Even after being diagnosed with an inoperable brain tumor, Laurence cooked up gourmet lunches to sell to people in his neighborhood and at the hospital to be able to buy a Gibson electric guitar.
His giving attitude in part helped both Lisa Carolin and Pat Carolin cope with the loss of their child. During Laurence's latest years, Lisa's partner, Suzanne Murray, also became a solid presence in Laurence's life to help keep the family strong.
"Death isn't a big deal to me. It's just another part of life. Some people die earlier than others. … I can accept dying, but I don't want to die before there's an end to extreme poverty in Africa," Laurence said in the same 2009 interview.
The ripple effect
Laurence's decision to donate his brain came as an unprecedented request by a pediatric patient at U-M.
"I felt like I was talking with an old man, wisdom-wise," Pat Carolin said of Laurence. "He was an extremely mature person, and the illness made him even more mature. I don't know that I would have made that choice myself. That's what he wanted to do, and Lisa and I signed off on it."
Researchers in the Department of Neurosurgery have been collecting tumor specimens for years, but whole brain donations are a recent development.
Courtesy U-M
"That program is really his gift," said
Dr. Shawn Hervey-Jumper
, a neurosurgeon conducting research at U-M. "It started with Laurence and his wishes."
Laurence's donation, communicated via an informal note signed by both Laurence and his mother Lisa, moved the department forward to create a program for brain donation.
Glioblastoma multiforme, the type of cancer Laurence had, is a rarer but more fatal form of brain cancer. Most brain cancer patients have more treatable cancers like hematomas and leukemias, Hervey-Jumper said.
Hervey-Jumper has some experiments running using DNA and RNA protein extractions from Laurence's brain tissues to examine the tumor. Years of research can be conducted from the donation, experts at U-M said.
"To me, it's incredibly exciting and I think everything is significant," Hervey-Jumper said of the outcomes of pending research projects.
"The one thing (Laurence) asked is, 'I want my life to have meaning,'" said Dr. Karin Muraszko, chairwoman of the Department of Neurosurgery. "He lives on in the research that's being done in that laboratory."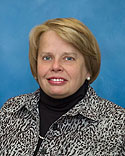 Courtesy U-M
Donating a brain to science is not a topic that doctors broach with their brain cancer patients at U-M. Rather, ever since Laurence donated his brain, numerous doctors have reported that more and more people have decided to donate their brains as well.
"I have no idea how they all find out about it," Hervey-Jumper said.
The program has a collection of seven donated brains, and several more patients working with doctors at the University of Michigan have expressed their interest in donating their brains as well.
"There have been quite a few patients now that have made that (same) decision," Muraszko said. "(The program) wasn't created through us, it was created through the patients."
Enabling new research
Developing better treatment options for individuals with inoperable brain tumors has progressed slowly because of the lack of specimens to study.
In the past 100 years, the median survival time for patient that have been diagnosed with inoperable brain tumors has extended from six to 18 months.
Brain donation programs are not common amongst medical research institutions, Dr. Hervey-Jumper said, though tumor and tissue donation programs are relatively more common. The resulting medical advancements have been limited to date.
With the brain donation program that the University of Michigan is cultivating, Dr. Muraszko, chairwoman of the Department of Neurosurgery, is hoping that it can be used to find new treatments.
"Brain tumors have an awful set of tendrils that go off into the brain. They're difficult to treat because they're entwined in different parts of the brain," Muraszko said. "Our goal is to make tumors curable, fixable and something of the past."
The husband-and-wife team of Dr. Pedro Lowenstein and Maria Castro, both professors of neurosurgery, cell and developmental biology, were recruited to the University of Michigan Medical School by Muraszko to create a translational brain tumor research program in the Department of Neurosurgery.
The research duo has dedicated their careers to finding a treatment for solid brain tumors, as the diagnosis is currently a death sentence.
They received approval from the U.S. Food and Drug Administration prior to coming to U-M to conduct a groundbreaking clinical trial in human patients. Beginning in January, they and other researchers at the University of Michigan will be using gene therapy treatments to target cancerous cells in solid brain tumors.
Also in 2013, Lowenstein and Castro will embark on a research project of examining donated brains using a machine that makes thin slices of the tissue for the researchers to examine under the microscope.
The ability to study a collection of donated brains from cancer patients is exciting to Lowenstein and Castro, as it's a rare look into the inside of the brain to see the way tumors grow and make connections to healthy blood vessels and other parts of the brain.
"It's going to enable us to uncover new features of brain cancer," Castro said. "We can study many things that are essentially invisible to other people right now."
Once symptoms of brain cancer become too strong for a patient to ignore, the cancer is often in an advanced stage. The prospect of looking at different stages of tumors in the future could also enable new areas that could lead to better treatments.
Strong memories
The resonating effect of Laurence's story will soon become more than a memory shared between neurosurgery colleagues at U-M.
Lisa Carolin | AnnArbor.com
"(Laurence's) name comes up at least once a week with different people around the department," Hervey-Jumper said.
His selfless attitude and donation of his Make-A-Wish to charity had garnered him face time with his favorite band, U2, in September 2009 at a concert at Chicago's Soldier Field. The Gibson guitar he bought with money raised himself was signed by the entire band.
Up until now, it's been sitting in a closet in Laurence's empty room in his mother's Scio Township home, watched over by a printed photo of Laurence with the band that helped him get through the worst of his sick times.
Wednesday afternoon, the Gibson guitar will be permanently installed in U-M's C.S. Mott Children's Hospital with a plaque dedicated to Laurence.
"He was focused on the future. He wanted to have a bigger impact. This was a kid who said, 'I want to make something with my life beyond my brain tumor,'" Muraszko said. "We are always … forever inspired by our patients. The depth of caring, forethought and kindness that they bring forward is shocking."
Dr. Hugh Garton, the lead neurosurgeon at U-M who helped diagnose Laurence's cancer, said he thinks of Laurence often, and is unable to forget some of the things Laurence said.
"(Lisa) said, 'What am I going to do without you?' and (Laurence) said, 'You've got to get a cause, Mom.' And that's what he did," Garton said.
Amy Biolchini covers Washtenaw County, health and environmental issues for AnnArbor.com. Reach her at (734) 623-2552, amybiolchini@annarbor.com or on Twitter.