Posted on
Tue, Sep 3, 2013 : 5:59 a.m.
How did the Main Street closure affect lawn parking near Michigan Stadium on Saturday?
By Ryan J. Stanton
Ryan J. Stanton | AnnArbor.com
When he first heard
Main Street was going to be closed
in front of the Big House for
University of Michigan
football games this season,
Tom Raab
worried it might hurt a family tradition.
Since 1927, his family has operated a makeshift game-day parking lot on three vacant residential lots directly across from Michigan Stadium on Berkley Avenue.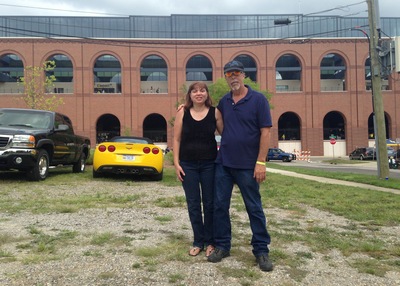 Ryan J. Stanton | AnnArbor.com
"My grandfather bought this property
the year the stadium was built
and we've been using it for parking ever since," said Raab, noting his grandfather charged a quarter to park back in the 1920s and now they charge more than $50.
"I've been doing this since I was old enough to reach my hand in a car — it's a great tradition."
A half-hour after Saturday's game started, Raab was satisfied that about 50 of the 65 spots were filled, which was all he was expecting for the matchup against Central Michigan University.
"As far as what we wanted to do today, it was all achieved," he said. "We thought the road closure would affect us heavily, but for the most part it hasn't affected us at all."
Ann Arbor property owners who allow football fans to park vehicles on their lawns in the neighborhood just west of the stadium had mixed reactions to the road closure on Saturday.
Ryan J. Stanton | AnnArbor.com
Some agreed that everything worked out fine and there were no major issues to report, and others expressed concerns it caused confusion and cost them money.
Considering he collects about $30 to $40 per space, Dennis Kittel said the fact that he still had a number of spaces empty after Saturday's game started meant he lost real money.
Kittel, who allows parking on his lawn on Potter Avenue, said normally his property is one of the first places to park when motorists turn off Main Street.
But with traffic detoured on Saturday, motorists had to wind through the neighborhood and past a barricade to reach his block, and then he was at the end of the street.
"I don't like it," he said. "There's very little traffic coming this way and people keep turning around, don't know where to go. It might take a while for people to figure out how to get here."
Saturday's game started at 3:30 p.m. The northbound lanes of Main Street between Stadium and Pauline closed at 12:30 p.m., while the southbound lanes closed at 2:30 p.m.
The enhanced security measures were recommended by the U.S. Department of Homeland Security to create a vehicle-free zone around the stadium.
Ryan J. Stanton | AnnArbor.com
Kittel and other property owners expressed concerns about additional "soft" barricades put in place at four points along the east side of Belmar Place — at the intersections of Snyder, Berkley, Potter and Keech avenues. They said that kept some motorists from turning down their streets.
The partial blockades — a block west of Main Street — were put up because Main Street was closed ahead, but local traffic was still allowed around them.
Police Chief John Seto said signs should have been posted to alert drivers that local traffic was still allowed and that lawn parking was still open. He said that should be in place for the next game.
Jack Schultz, who was still trying to direct cars to fill empty spots on his lawn on Potter Avenue after Saturday's game started, said he witnessed people stop at the blockade on his street, sit there for 15 to 20 seconds, and then keep driving. He said he lost business because of that.
"It's killing me," he said. "People don't know to come through because they've got the road blocked. I've got a lot of holes — I'm probably 10 short, and I should not be short any."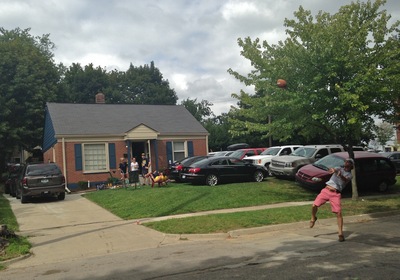 Ryan J. Stanton | AnnArbor.com
Kathy Jackson
, who charges $35 per spot for people to park on her lawn on Keech Avenue, said she didn't notice any impact from the road closure.
"It's nice having the street closed because there's a little more safety for the people walking around," she said. "So it seems like it has worked out great."
Shelley Sibbold also said she didn't notice any impact. Her lawn at the corner of Belmar and Keech was packed with cars on Saturday.
"I think people were just a little surprised that Main Street was closed, and then luckily they've been able to find their way around," she said. "I think people kind of work around it."
Seto walked the neighborhood on foot before and during Saturday's game and spoke with several residents about their experiences.
"We have six additional officers who are just dedicated to this neighborhood to address any of the traffic-flow issues or parking issues," he noted.
No major traffic backups were observed before or during Saturday's game, city officials and residents who spoke with AnnArbor.com said.
Main Street reopened to traffic at the conclusion of the game.
A community meeting with the Ann Arbor Police Department is scheduled for 6 p.m. Sept. 24 at Pioneer High School to discuss any potential modifications to the road closures.
Ryan J. Stanton covers government and politics for AnnArbor.com. Reach him at ryanstanton@annarbor.com or 734-623-2529. You also can follow him on Twitter or subscribe to AnnArbor.com's email newsletters.