Posted on
Sun, May 22, 2011 : 5:59 a.m.
Controversy about 'Lazy Cakes' relaxation brownies raises concerns over melatonin-laced food & drinks
By Juliana Keeping
It's a fast-paced, Red Bull slamming world we live in - and products peppering the store shelves around Ann Arbor have an answer for anyone looking to slow down: Melatonin-laced drinks and brownies with names "Marley's Mellow Mood," "Slowtivate," and "Lazy Cakes."
"Energy drinks got you all jacked up? Cage the bull!" proclaims an advertisement for Slowtivate," adding, "Un'ergy has never felt so Bliss."
The relaxation brownies and similar products have captured the attention of health and public officials in recent weeks, buoyed by a recent New York Times article about the unregulated products.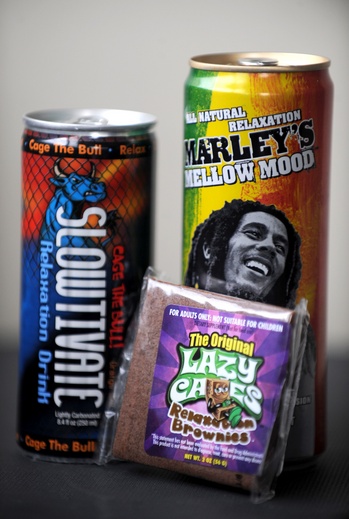 Angela J. Cesere | AnnArbor.com
Then on Thursday, Arkansas Health Department banned "Lazy Cakes," brownies marketed as an herbal supplement that contain 8 milligrams of melatonin.
But so far, drinks like Marley's Mellow Mood, manufactured in Southfield, haven't sparked the same kind of public health outcry - even though cans found on Ann Arbor store shelves list no dosage information for melatonin.
According to the Food and Drug Administration, melatonin is a hormone used for the treatment of sleep-related disorders; it is not approved as an additive in food or beverages. The single-wrapped "relaxation brownies" that cost about $4 each have an answer for that little problem:
"DIETARY SUPPLEMENT (Not for food use)," the Lazy Cakes label reads.
The purple and green packaging that features a smiling, relaxing brownie with sleepy eyes makes an obvious allusion to the illegal version of the brownies. It also carries the message, "For adults only: not suitable for children."
Each brownie - which isn't really a brownie, according to the label - contains about 8 milligrams of melatonin. Marley's Mellow Mood, a beverage found in Ann Arbor, also bills itself as a dietary supplement.
According to Susan Smolinske, MD, the director of Children's Hospital of Michigan Poison Control Center, the recommended daily dosage for melatonin ranges from .2 to 24 milligrams a day. Most pills contain 3 milligrams of the hormone.
The jury is out on relaxation products like "Lazy Cakes," manufactured by Memphis-based Baked World/HBB. So far, the FDA han't taken action.
While the FDA iissued a warning letter to Houston, Texas-based Innovative Beverage Group Holdings Inc. in 2010 for a melatonin-laced drink called Drank, no other such products have been issued warning letters, said FDA spokesperson Stephanie Yao in an e-mail. The Drank case is ongoing, Yao said, declining to provide additional details.
Despite the letter and the apparent lack of energy found in food and the drink cans, they're picking up speed.
In Ann Arbor, Michael Gilbert, owner of Ethnospot, a slip of a second-story alternative medicine shop near University of Michigan Diag in Ann Arbor, started carrying Slowtivate a few days ago following the suggestion of a vendor he works with, he said. Tiny letters on the can warn "Not recommended for children, pregnant women, or persons on medication."
Gilbert has offered the Lazy Cakes for sale for about six months, he said. Most who buy them are in their 20s, he said.
"It's more of an impulse buy for people," he said, "But some who have bought Lazy Cakes have become repeat customers."
Jerome Kamano, who owns the Diag Party Shoppe in Ann Arbor, has offered Lazy Cakes for sale for the last month after a distributor he regularly works with suggested the product.
He said the novelty of the item appeals to people, and that they're selling well - to individuals over 18.
Kamano also sells Marley's Mellow Mood in citrus or berry flavor. The can of the melatonin-containing beverage prominently features the marijuana subculture icon over Jamaican flag colors. Its "relaxation blend" is a 41 mg mix of Valerian root, Melatonin and other extracts. It isn't clear how much melatonin is in the can, though a tiny warning label advises against consuming two cans in a day. A Facebook page for the product has about 4,000 "likes."
Lazy Cakes, Slowtivate and other "un'ergy" products also lists sedatives like Valerian root and other herbs as part of products' calming mix.
Slowtivate's "proprietary blend" is an 803 mg mix of Valerian root, Melatonin and two other ingredients, according to the label. It's also not clear how much melatonin is in the Red-Bull-sized can that promises to "Comatize all your ills and afflictions."
Gilbert sells Valerian root separately at his shop as alternative medicine treatment for insomnia, he said.
Foods and drinks that contain melatonin are subject to regulatory action, Yao said, because melatonin isn't an approved food additive. Food products alone do not need FDA approval, Yao added.
Agencies besides the FDA can take action on these foods, Yao added, and they're starting to do that.
Politicians and health departments in other states are riled up about "Lazy Cakes."
Sen. Dick Durbin raised his voice against "Lazy Cakes" as well as a brand called "Lulla Pies" in Washington Thursday, according to the Associated Press. Media reports indicate two Massachusetts mayors are trying to ban the brownies following reports they made a 2-year-old boy who took two bite's of a relative's brownie fall into a deep sleep.
The Arkansas Department of Health recalled Lazy Cakes Thursday, according to media reports. ADH advised consumers to throw away the brownies.
There's less public clamor about melatonin-laced beverages.
The 2010 FDA letter to the manufacturer of the melatonin-spiked beverage Drank raises safety concerns about melatonin, citing studies that say melatonin might drop blood pressure, which is of special concern for individuals already taking blood pressure medication. Low doses of melatonin may also reduce glucose tolerance and insulin sensitivity in diabetics, according to that letter. Different studies have shown melatonin increased spontaneous malignant tumors in female mice and damaged eye function in rats.
What's your take on food or beverage products marketed as "dietary supplements" that contain melatonin? Take our poll and leave a comment below.
Juliana Keeping covers general assignment and health and the environment for AnnArbor.com. Reach her at julianakeeping@annarbor.com or 734-623-2528. Follow Juliana Keeping on Twitter