Posted on
Fri, Nov 6, 2009 : 6:04 a.m.
Leigh Greden apologizes to Ann Arbor City Council colleagues for his role in e-mail scandal
By Ryan J. Stanton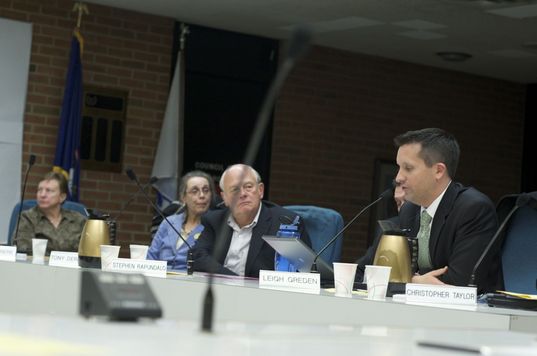 Ryan J. Stanton | AnnArbor.com
Leigh Greden marked an emotional end to his six-year reign on the Ann Arbor City Council Thursday night with a speech that began by addressing what he called "the elephant that lives in my room."
"I've said this several months ago — I said it too late at the time — but I owe an apology for the e-mails. I don't know how else to say it," Greden, D-3rd Ward, told his peers on the City Council.
Greden, a young and energetic attorney who earned a reputation as a power broker on council, expressed regret for many e-mails he sent during meetings over the past six years.
The e-mails, which have caused debate in the community since they were made public, revealed instances where Greden attempted to script votes and made snarky comments about other council members during meetings.
"I have a very snide sense of humor," Greden admitted Thursday at his last meeting. "I am an equal-opportunity teaser — I tease myself, I tease my closest friends — and those comments, quite understandably, can offend people. And I owe each of you an apology, frankly, for dragging you through that mess."
Greden lost his council seat in the August primary when voters selected Stephen Kunselman by a mere six votes. Several leaving the polls that day noted the e-mails as their reason for voting against him.
Greden offered particular apologies Thursday to Council Members Mike Anglin and Sabra Briere, who were the subject of harsh criticisms and name-calling in his e-mails.
Council members — all but Anglin and Briere — took turns at the end of the meeting wishing Greden well in his future endeavors.
Forgiving Greden for his mistakes, fellow council members described the 36-year-old Ann Arbor native as one of the hardest working public servants they've ever worked with. While Greden's e-mails were controversial, they often revealed his tireless dedication to serving constituents.
"Being an old-time veteran here, I have not had the opportunity to serve with anybody on City Council that worked harder than Council Member Greden," Mayor John Hieftje said. "And I've never seen anyone on council study the budget and really the nuts and bolts of city government as intensely as he did."
Council Member Carsten Hohnke, D-5th Ward, said few council members have brought as much energy and skill to the table as Greden.
"I think during the course of our duties on council, a lot of these issues come up that people just need to carry buckets of water and get things done, and I think Council Member Greden has carried more than his share over the years," Hohnke said.
"I'm going to miss you," said Council Member Marcia Higgins, D-4th Ward. "I think you've been a workhorse on council, and I think that we're going to have to redistribute some of that because I don't think one person can come in and do all the things that you've done."
Ryan J. Stanton | AnnArbor.com
Council Member Margie Teall, D-4th Ward, fought back tears as she offered her farewell to Greden.
"It's been a wonderful six years," Teall said. "Your constituent services were unsurpassed, you are smart, and you are smart enough to get us all in trouble. But you did make it enjoyable, and I think that makes a huge difference to the whole feeling of being on council."
Council Members Stephen Rapundalo and Tony Derezinski, both D-2nd Ward, also offered their thanks.
"Quite frankly, I've marveled at his ability to juggle many more balls in the air than I could ever hope to do," Rapundalo said. "And he's always brought an immense amount of energy and focus and, quite frankly, passion - passion that's rooted in simply wanting to do the right thing for the community."
Greden said he hopes the e-mail issue doesn't continue to drag the city down. He said it's been a distraction from "the amazing things we're doing" in Ann Arbor.
"I continue to have great pride for this city, for this body, and I have learned a lot from serving here," Greden said. "I study other cities quite a bit - partly it's part of my job, partly for fun - and I absolutely believe that the city of Ann Arbor is the best run city in the state of Michigan."
Greden said other cities of comparable size are facing serious cutbacks, closing community centers, shutting down libraries and making deep cuts in public safety.
"Meanwhile, here in our great city, tonight we just invested in a world-class recycling program," Greden said, referring to a new single-stream recycling program approved by the council. "A lot of people thought, 'How could we get any better?' Yet we've found a way to do it."
Council Member Sandi Smith, D-1st Ward, remarked: "Somehow I don't think that we've seen the end of you."
Ryan J. Stanton covers government for AnnArbor.com. Reach him at ryanstanton@annarbor.com or 734-623-2529.