Posted on
Wed, Dec 8, 2010 : 5:55 a.m.
Letters Home art exhibit on homelessness at St. Francis of Assisi aims to give voice to the voiceless
By James Dickson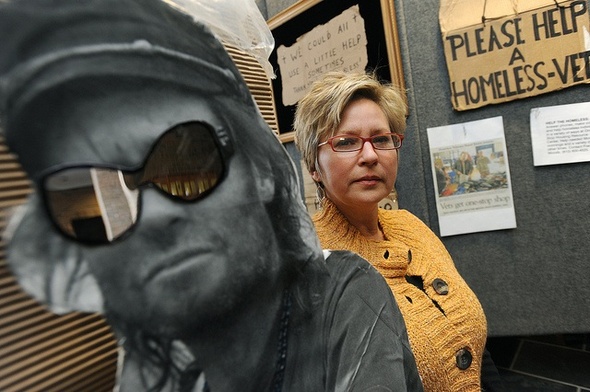 Lon Horwedel | AnnArbor.com
Where would you go if you had nowhere to go?
Susan Clinthorne has a theory on why most people try their hardest to ignore the homeless and the panhandlers they see on the streets: "No one wants to think that it could happen to them," she said.
"Another part of it is, when you see someone in trouble, you feel compelled to help. It's easier not to when you can ignore that person."
For parishioners of the St. Francis of Assisi Church at 2250 East Stadium Boulevard in Ann Arbor, ignoring the homeless isn't a possibility, not since Clinthorne installed her exhibit, "Letters Home," featuring the signs and images, in life-size cutouts, of homeless people, in late November. "Letters Home" will remain at the church through Monday, Dec. 20, at which point it will head to St. Aidan's Episcopal Church on the north side of Ann Arbor.
Clinthorne, an artist by trade, took an interest in homelessness and the signs homeless people carry to panhandle almost three years ago.
"'Please Help Me,'" Clinthorne said, repeating one of the signs that touched her in the early going. "Three simple words and it says so much. It also makes you want to learn more," and in Ann Arbor, Flint, Chicago, New York and even out West, Clinthorne and her sister and collaborator, Sally Thielen, set out to do just that.
Not only did the sisters pay for the signs — ranging from $5 locally all the way up to $20 in New York City, a price Clinthorne attributed to the higher cost of living — they took pictures of the homeless and also interviewed them to hear their stories. In her exhibit, Clinthorne has also included some items frequently associated with homelessness, including cardboard boxes and a shopping cart.
Clinthorne had always heeded the conventional wisdom on the homeless — that any money you give to one will soon be spent on the same vices, drugs and alcohol, which paved their road to homelessness.
If simply giving away cash was out of the question, then paying for the signs they carry was "a fair exchange," she said.
Beyond the desperation in the signs, which Clinthorne and her sister still collect to this day, Clinthorne saw a humanity. The first thing you notice about "Letters Home" is the gruff-looking man crouched down outside of his makeshift, cardboard home. He holds a sign that says "HOMELESS PLEASE HELP."
Clinthorne can't reveal the Ann Arbor-area man's name because she only got verbal, but not written, permission to use his image. His home is a cardboard hut, dirtied every time he enters it by his Columbia work boots. He has experienced just enough good cheer to have obtained a wreath and some Christmas decorations, but not so much that he's eating anything more than two Granny Smith apples that day.
Near the bedding area lies a doll, perhaps the toy of a child whose mother would rather she not know that Dad is homeless. And then there's the vice — a tin of chewing tobacco that substitutes for meals, and a case of Miller Lite to fight, or at least mask, the winter chill.
The signs and the outsized cutouts give a three-dimensional nature to "Letters Home." The faces of the homeless are black and white and young and old. Some have been poor all their lives, others fell into bad circumstances and couldn't get out.
Off the back wall Clinthorne attached a laundry list of the famous and formerly homeless, a list that ranges from Jesus Christ to Ben Franklin to Harry Houdini and Halle Berry. Message: The homeless aren't so different from you or me. There, but for the grace of God, I go.
Clinthorne has encountered some negativity for her work. There is an initial skepticism when she tells people about it, a concern that the homeless are being exploited for her personal gain.
Those concerns go away when she explains that (a) she bought the signs and (b) she doesn't make any money from the exhibit.
Scott Wright, director of the social ministry at the St. Francis Parish, is happy to have "Letters Home" on display. He said that the exhibit has gone over well with parishioners. Many have taken an interest and several have even donated money to the church's ministries.
Wright concedes that most homeless are in that position, if not as a direct choice (leaving an available home in favor of the streets) then as a consequence of earlier choices. Even if those consequences were unimaginable at the time.
"We've all made mistakes," Wright says, "but the big difference between you, me and a homeless person is that we don't have to face our consequences alone. We have family, friends. But who would you call if you had no one to call?"
James David Dickson can be reached at JamesDickson@AnnArbor.com.