Posted on
Mon, Mar 26, 2012 : 12:14 p.m.
Greenhills administrator: Student injured in six-story fall at MSU dorm expected to recover
By Cindy Heflin
It could have been so much worse. That was the thought Greenhills Head of School Peter Fayroian was holding onto after learning that senior Alexandra Pew had fallen through a six-story window at a Michigan State University dormitory early Sunday.
Fayroian said Pew's parents told him they expect her to recover with time and hard work. "We expect her to walk at graduation," he said.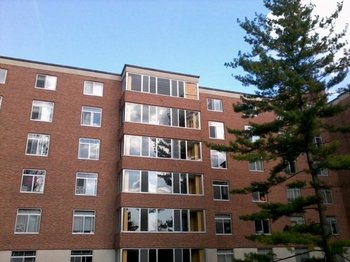 Pew, known to her friends as Lexi, fell backward, crashing through a glass window during a game of catch about 3 a.m., MSU police spokeswoman Sgt. Florene McGlothian-Taylor said.
Pew was listed in critical condition at Sparrow Hospital in Lansing Monday morning. Hospital spokesman John Foren said he could provide no information about Pew's injuries. Pew was conscious following the accident, McGlothian-Taylor said.
The accident occurred about 3 a.m. Sunday in a sixth-floor lounge at North Case Hall, where the Ann Arbor resident was visiting friends at the East Lansing school for the weekend, McGlothian-Taylor said. The window through which Pew fell does not open, she said.
Michigan State freshman Ustina Shives told WILX-TV that she heard the sound of breaking glass and realized that someone had fallen. She called for help.
"She landed on her back. She was still for a moment and then she started moving," Shives said.
Fayroian said Pew's parents expressed their relief that she was not more seriously injured.
"They conveyed that they're relieved that she's come out of this as well as she has. They're very supportive wonderful people who will help her through this," Fayroian said.
Pew is captain of the girls varsity tennis team at Greenhills, Fayroian said. Administrators held an assembly for students this morning to talk about Pew's accident, he said.
"She's a wonderful kid who has a great attitude and we know she's going to recover from this and we can't wait to see her at graduation," he said.
The Associated Press contributed to this report.
Contact Cindy Heflin at 734-623-2572 or email her at cindyheflin@annarbor.com or follow her on Twitter.