Posted on
Fri, Dec 16, 2011 : 9:56 a.m.
Liberty Street Robot shop launches online holiday catalog; Aetna Foundation funds local research into healthy food for low-income families
By AnnArbor.com Staff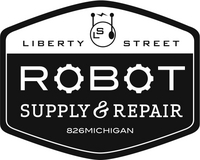 From the launch of an online holiday catalog that benefits nonprofit tutoring organization 826michigan to the Aetna Foundation giving grants to two local organizations that work to provide healthy food for low-income families, here's a roundup of some of the stories posted on AnnArbor.com's Community Wall this week:
By: A Googler: Liberty Street Robot and Repair Supply Launches Online Holiday Catalog
With an astounding array of gizmos and gadgets for every age, Liberty Street Robot and Repair offers holiday shoppers the opportunity to give a unique gift with the added bonus of supporting 826michigan, a non-profit tutoring and writing center dedicated to supporting students ages 6 to 18.
By: Scot Roskelley: Aetna Foundation Awards $381,000 to Two Ann Arbor Associations
The Aetna Foundation has awarded grants totaling $381,000 to research the effectiveness of several food assistance programs designed to help low-income families buy more fresh produce and other healthful foods.
By: Justin Fisette: United Methodist Retirement Communities Hires Janet Winright as Home for the Aged Administrator
By: Chris Kochmanski: Fa La La La La La! Daycroft Students Delight Seniors and Shoppers with Holiday Tunes
By: Blueprint for Aging: Looking for a way to warm some hearts during the holidays?
By: sawashtenaw: Ann Arbor Firefighters to Ring Bells for The Salvation Army
By: Friends of the Dexter District Library: Used Book Sale--Friends of the Dexter District Library
By: Carla K Bisaro: Christmas Eve Luminaria
By: Internet Innovation Alliance: Conspiracy Fantasy Aside, Wireless Broadband Offers First Class Service in Rural America
By: Amy Adam: Employment Plus Welcomes Amy Adam!
By: Meredith Lovelace: Lamaze Family Center Partners with University of Michigan's Von Voiglander Women's Hospital to Teach Childbirth Classes
By: Gaile Peterson: A Holiday Arts and Crafts Sale at Aprill Wellness Center
By: larry: Physics and Reality
By: Kevin Lill: Peace Neighborhood Center's New Toy & Food Drive Needs Your Help For the Holidays
By: Sandria Kellermann: Share an easy hug with our wounded veterans & families this month, help Homefront Holiday Hugs in Ann Arbor
By: bbbswashtenaw: "For it is in giving that we receive" -St. Francis of Assisi
By: M Thrasher: Fighting Childhood Obesity this Holiday Season

Arbor.com's Community Wall is a spot for local people to post local stories, news and announcements. To post a story, sign in to AnnArbor.com, then go to www.annarbor.com/community and use the Got News? Tell Us function at the top to submit your news. If you have a photo to add, e-mail it to us at community@annarbor.com and we'll insert it into your story.