Posted on
Wed, Sep 15, 2010 : 5:11 p.m.
Lieutenant governor hopeful Brenda Lawrence says the difference is clear between Bernero and Snyder
By Ryan J. Stanton
Democratic lieutenant governor nominee Brenda Lawrence told a small crowd of University of Michigan students today that she and Virg Bernero may be down in the polls, but expect to close the gap in the coming weeks by getting their message out to voters.
"There is a clear difference between these two campaigns," she said. "We are working, we're on Main Street, we know what the issues are because we live them every day as mayors. We're the outsiders. Then you have our opponent, who is an elitist, who has lived a life of extreme wealth."
Ryan J. Stanton | AnnArbor.com
Lawrence, who has been Southfield's mayor for the last nine years, recently signed on as Bernero's running mate. Bernero has been the mayor of Lansing for the last five years.
Addressing a crowd of about a dozen members of the College Democrats inside the Michigan Union, Lawrence criticized Republican gubernatorial candidate Rick Snyder for being out of touch with working families. She said Snyder hasn't had any direct involvement "with the issues of our state."
"I tell everyone, when you're looking at voting for your next governor ... follow the jobs," Lawrence said. "Virg Bernero, as mayor of Lansing, has over 6,000 new jobs that have been created. Our opponent, as the CEO of Gateway, not only eliminated jobs to fix his budget, but he outsourced them to another country."
Lawrence pondered the possibility that Snyder would do the same as governor. "Maybe when you call the state capitol, you'll get someone in China — I don't know," she said.
Before arriving in Ann Arbor this afternoon, Lawrence visited Beezy's Café in Ypsilanti, where she listened to local residents talk about the challenges they face as middle-class people in a tough economy. Lawrence discussed the Democratic ticket's "Main Street Agenda," a plan to shake up the state capitol and "fight for real people on Main Street."
One student asked Lawrence today what the difference was between her and state Rep. Brian Calley, R-Portland, Snyder's choice for lieutenant governor.
"He is in Lansing right now. He's an insider. He's part of the problem," Lawrence said. "Other than that, I really don't know what he brings to the table."
Esquire Magazine named Lawrence one of America's "hardest-working" mayors, and Crain's Detroit Business named her one of Southeast Michigan's "most influential women."
She said both she and Bernero have delivered balanced budgets on time — without raising taxes and without laying off employees — every year they've served as mayor. Both also have cut government and managed their budgets so well, she said, that their cities are among only a handful of major cities in the state to earn a AA-plus credit rating.
Lawrence also touched on the economy and jobs today. She and the students discussed restoring funding for the Michigan Promise scholarship.
"We feel education is an economic stimulus — that if you get the education piece going and get it right, then you will have the opportunity to build the economy and create jobs," she said. "One of the things Virg is very passionate about is refunding the Michigan Promise."
Lawrence also said there's a direct correlation between prison populations and lack of education. "So we have been spending a tremendous amount of money imprisoning people, where statistics have shown us that if people — at a minimum — get a high school education, they don't end up in jail," she said.
Lawrence said her first introduction to Bernero was a couple of years ago when he called her up and asked her to sign on to the Mayors Automotive Coalition, a national group of local governments that lobbied Congress for a bailout for the U.S. auto industry.
"He called me up on the phone and he said, 'Mayor, would you go with me to Washington and to Congress to fight for the auto industry?'" she recalled. "I said, 'Absolutely,' and I walked the halls of Congress with Virg Bernero. This man was tireless in his leadership, he was passionate, and this is a time when a lot of people were just frustrated and going, 'Oh no, it's the end.'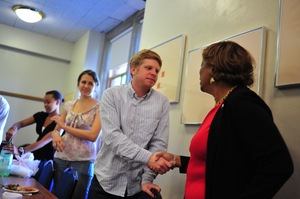 Ryan J. Stanton | AnnArbor.com
"He got the label during that time as the angriest mayor in America because he was relentless," she added. "When he believes in something, he fights for it."
Lawrence called small businesses "the key to revitalizing our economy." She spoke proudly of the spirit of entrepreneurship in Michigan and said removing barriers to economic development and investment by small businesses is a top priority.
"One of the things I always say is broken in Detroit is the bureaucracy of economic development," she added in response to a question by one of the students. "I can tell you horror stories I've heard from developers who want to develop or invest in Detroit, and they can't get through the red tape."
Lawrence said Snyder would work to eliminate unions as governor, which she said further demonstrates how out of touch and ignorant he is about organized labor.
"You have to find a way to work to build an economy here in Michigan with our unions," she said. "And he has said that if Right to Work comes to his desk, he's going to sign it. Well, I am not ashamed of the accomplishments and the contribution that our unions have made to Michigan."
Lawrence spent time today asking the students about issues they see facing the state and the future they envision for Michigan. Students expressed concerns about a perceived decline in quality of education due to cuts to K-12 education.
Nina Bhattacharya, vice chairwoman of the College Democrats, told Lawrence not to forget higher education when considering investing in Michigan's future.
"I feel like so often that's overlooked," she said. "When the Michigan Promise scholarship was taken away, that really did hurt a lot of people because there's enough of us whose families make enough to not receive financial aid from the federal government, but are still not making enough to pay for tuition, and so the Promise scholarship was something that was achievable."
Students said they're in agreement with continuing the state's film tax credit program. Snyder has said he wants to eliminate incentives for the film industry in Michigan.
"Obviously, the jobs that the film industry is bringing in is huge," said Brendan Campbell, chairman of the College Democrats. "But I think it's also really important to have a local pride, a sense of enthusiasm about the state of Michigan."
Zachary Martin, who heads up the College Democrats' education committee, told Lawrence he's tired of short-sighted budget decisions being made by state leaders in Lansing.
"There's just this tremendous amount of short-term, reflexive cutting that ends up costing more in the long-term and there just seems to be no rationale behind it," he said. "There's movement to cut education despite the fact that that hampers economic development, and that, to me, is the biggest issue I've seen in government over the past couple of years."
Ryan J. Stanton covers government and politics for AnnArbor.com. Reach him at ryanstanton@annarbor.com or 734-623-2529.