Posted on
Fri, Mar 29, 2013 : 5:58 a.m.
Lifelong Michigan man Frederick 'Bud' Stein remembered for constant community involvement
By Ben Freed
Frederick "Bud" Stein, a consummate "man behind the scenes" at the Ann Arbor Kiwanis Club, University of Michigan sporting events and the U-M Alumni Association, died Wednesday at his Ann Arbor home. He was 91.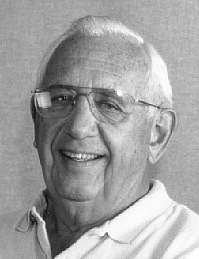 Courtesy Robert Gray
Stein grew up in Ann Arbor and graduated from Ann Arbor High School in 1939. His work helping the town started at a young age. As a boy, Stein helped his father,
Eugene "Ike" Stein
, raise and lower the Big Ten pennants that flew at Michigan Stadium during home games. This tradition encompassed four generations of Steins, as Bud continued the tradition after his father's death with the help of his wife, daughter, and eventually his granddaughter as well.
"When they first started they would put them up in pairs, and the stadium was on level with the street so they would just drive the car around the top part and put up the two teams on each pole that were playing each other that week," daughter Cindy Nordlinger said. "He loved being a part of it."
After serving in the U.S. Navy in World War II, he returned to attend the University of Michigan and graduated in 1944 with a degree in economics. Stein then went to Harvard business school before taking a job at Stein Cleaner's, his father's dry-cleaning store on East Washington Street.
"That's how he started his interactions with athletics and the University of Michigan athletics department," family friend Doug Ziesemer said. "They used to clean all of the uniforms for all the sports teams at U-M."
Nordlinger said the dry cleaning business also re-conditioned uniforms and equipment for local high school football teams. He was trying to sign up Clinton High School as a client when he ran into his first cousin Ward Goetz, who worked for a sports equipment store in Lansing, in the parking lot.
"Ward told him that it would be an easy sell because the high school had just told him that they did not want to buy new equipment," Nordlinger said.
"But then when my dad went in he got the reverse story, that they wanted to buy all new equipment… After that they decided that if they joined up they'd have them coming and going so customers wouldn't be able to say no."
Stein and Goetz opened their sporting goods store on Washington Street in 1954 and Ziesemer said they quickly became the go-to equipment store for most University of Michigan sports teams.
"He just liked supporting everyone," he said. "Not just going to the games, he liked working with the equipment managers and making sure that people had just what they needed."
The pair moved the store to South Main Street 1963. Once there, Stein became embroiled in deliberations over what to do with what was then a four-lane road.
"Everyone who sits outside and eats downtown can thank my dad," Nordlinger said.
Friends and family remember Stein leading the charge in 1965 for tree-lined widened sidewalks on both sides of the street.
"He was very instrumental in starting the movement to bring in what we call the promenade, or the 'treescape' component," Ziesemer said.
In 1965, Stein also made the presentation to the National Civic League that won Ann Arbor it's first commendation as an "All-American City," Nordlinger said. The community's only other All-American City award came in 1983.
"He was also very involved when the YMCA and the YWCA joined and became the YM/YWCA. It was kind of an oddball, one of the first joint ones in the country," she said.
"He just hated conflict and loved for people to work together, just about everything he did revolved around that."
One year later, Stein continued his downtown involvement, serving on the Kiwanis committee that resulted in the purchase of the Kiwanis Activity Center on the corner of West Washington Street and First Street. The building houses the Kiwanis Thrift Sale and also serves as a central meeting place for the organization.
"It's one of only a handful of service organizations in the nation that have a building where they can meet and stage projects," Dale Leslie, a close friend of Stein's, said in an email.
Stein's involvement in Kiwanis included a term as the organization's president, but the local chapter's secretary Sheridan Springer said his involvement went far beyond official titles or positions.
"He was just an integral part of the club," he said.
"A lot of what he did were different internal things for the organization, things that made us better… He was the type of person who would be the one to step forward and call you up and say 'hey, I need your help we're gonna get this done.' He was very into it and that's the way he operated."
Stein sold Stein and Goetz Sporting Goods to Doug Horning and David Hirth in 1976, but remained involved in the store as a consultant until 1984. With the encroachment of regional and national sporting equipment suppliers, Horning and Hirth eventually shifted the store's focus to Michigan sports apparel and renamed it the M Den.
Continuing his involvement with the University of Michigan, Stein was an active member of the university's alumni association and went on 20 summer trips to Switzerland organized by the organization with his wife Annie.
He also remained committed to Michigan athletics, serving as superintendent of ushers at football games and supervising half the ushers in Michigan Stadium until the late 1980s. He continued to raise and lower the flags around the stadium until 1989.
"He wasn't the front runner," Nordlinger said.
"He was the one who stayed in the background and made sure everything happened the way it was supposed to."
No services are planned. Condolences may be sent to 1320 Horseshoe Circle #108, Ann Arbor, MI 48108.
Ben Freed covers business for AnnArbor.com. You can sign up here to receive Business Review updates every week. Reach out to Ben at 734-623-2528 or email him at benfreed@annarbor.com. Follow him on twitter @BFreedinA2