Lightning strike damages condominium in Ann Arbor
Posted on Sat, May 26, 2012 : 4:19 p.m.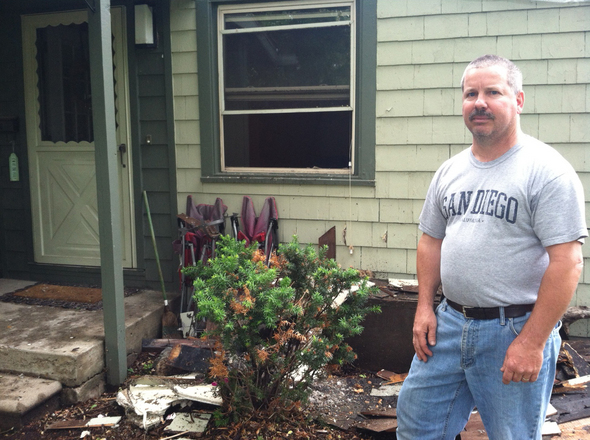 Paula Gardner | AnnArbor.com

Owners of a Pittsfield Village condominium spent early Saturday afternoon clearing items out of their home after lightning struck the roof during a storm about noon.

The home — located in the 2800 block of Pittsfield Boulevard near Packard, on Ann Arbor's east side — sustained damage to the roof and one wall.

But everyone in the home at the time, including a woman holding her granddaughter while sitting on a sofa just feet from the worst fire damage, escaped the home unharmed.

"We were sitting the living room and the lightning just struck, and boom," said Mary McCombie, co-owner of the home.

"They thought it was the neighbor's, then the guy started pointing at this roof, then (there was smoke)," she said.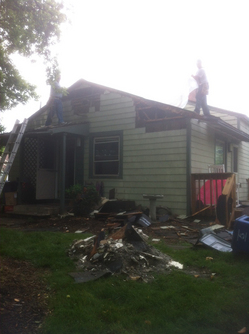 Photo courtesy of Ann Farnham
McCombie, who owns the home with her son, said he's out of town, but she and her husband, Bill, were there with visiting relatives.
Among them was Bill's mother, Barbara Berch.
"I was sitting there where the hole is," she said, pointing to the corner that suffered the most damage.
She left the home immediately with her toddler granddaughter, along with the McCombies.
Firefighters — who told Berch they could hear the lightning strike from their station on Platt Road — were on the scene quickly and contained the damage.
Fire Lt. Derek Wiseley, acting battalion chief, said the lightning ignited a fire in an exterior wall, and siding and drywall had to be removed in order to extinguish the flames. He said the structure suffered fire, smoke and water damage. The Pittsfield Township Fire Department assisted at the scene.
By 3 p.m., cleanup crews had started their work and the family was taking items from the home.
They expressed confidence that they'll be able to have the home repaired quickly — and relief that the damage wasn't worse.
"It's not as bad as it could be," Bill McCombie said.