Posted on
Thu, Dec 20, 2012 : 11:45 a.m.
Doctors, family and friends remember Laurence Carolin with memorial of guitar signed by U2
By Amy Biolchini
Joseph Tobianski | AnnArbor.com
Doctors, researchers, friends and family members gathered Wednesday evening in the Neurosurgery Clinic in
C.S. Mott Children's Hospital
to dedicate a memorial to
Laurence Carolin, 15, of Scio Township,
who died nearly three years ago of an inoperable brain tumor.
Before his death, he had decided to donate his brain to science. A conscious humanitarian, Laurence made the decision after he realized he wouldn't be able to accomplish his life goal of solving world hunger issues.
The memorial features Laurence's Gibson electric guitar and is right outside the elevators on the third floor of the new Mott outside of the Neurosurgery Clinic.
Joseph Tobianski | AnnArbor.com
During some of the more trying times of his illness, Laurence would listen to U2. He gave up his
Make-A-Wish
to meet the band and asked that the $5,000 designated for his wish be donated to the
United Nations Foundation
.
The action garnered the attention of Bono and U2, and allowed Laurence to meet the entire band in September 2009 at a concert in Chicago. It was then that the Gibson guitar was signed by all the band members, including the note: "To Laurence: Best Wishes/Respect/You are an inspiration."
The guitar is mounted on a map of the world, with a quote from Laurence's favorite U2 song, "ONE."
"It's perfect," said Laurence's mother, Lisa Carolin of Scio Township.
Lisa Carolin thanked the researchers for the work they were doing with Laurence's brain donation.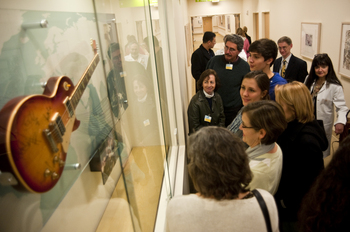 Joseph Tobianski | AnnArbor.com
The memorial also includes a QR code for visitors to scan with their smartphone. The code leads to a
video made by the University of Michigan about Laurence's story.
Wednesday, neighbors of the Carolins in Loch Alpine, Maryann Griffith and Barbara Bowman, both of Scio Township, admired the guitar displayed in the children's hospital, and reflected on the boy they knew as an "exuberant" presence in the neighborhood.
Laurence, an active soccer player, is remembered in many ways in the neighborhood. He had donated his soccer goals to his neighborhood park in Loch Alpine before his death, and there's a tree dedicated to him in the park.
Dr. Hugh Garton, the primary neurosurgeon who helped to diagnose Laurence's tumor, spoke first at the dedication of the memorial, detailing Laurence's story and describing his impact.
Later, in an interview with AnnArbor.com, Garton spoke about Laurence and what it meant to have Laurence's guitar now permanently installed outside the Neurosurgery Clinic.
Most pediatric patients with brain tumors live longer than Laurence did, Garton said. Laurence was diagnosed with a glioblastoma multiforme tumor in December 2007 and died January in 2010.
Garton said Laurence's effort to make a lot out of his life in a short time inspires him on a personal level. The memorial is a fitting tribute, Garton said.
"I'm excited to have that there because everyone comes at this through a different perspective. ... Some have an awful lot of despair," Garton said of his patients with brain tumors. "Laurence offers a different narrative than what's typical."
Amy Biolchini covers Washtenaw County, health and environmental issues for AnnArbor.com. Reach her at (734) 623-2552, amybiolchini@annarbor.com or on Twitter.