Posted on
Tue, Feb 23, 2010 : 12:50 p.m.
Live coverage of Michigan briefing on NCAA football investigation
By David Jesse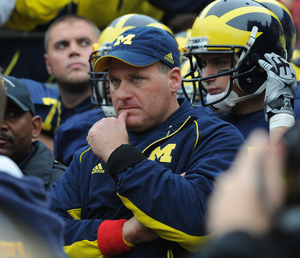 File photo
1:18 p.m: Football coach Rich Rodriguez said they are looking at everything they did to see where they misinterpreted NCAA rules and where they made mistakes.
"We know we can do a better job in areas," he said.
Brandon said there was nothing coming from the NCAA that they weren't already aware of.
1:14 p.m.: University of Michigan Athletic Director David Brandon just said that there was nothing in the investigation that would lead him to change football coach Rich Rodriguez's status for next year.
He is being coy about the exact details of the letter, but said they will hand it out at the end of the press conference.
The university got the notice of allegations yesterday morning.
Brandon declined to address if anyone has been disciplined over the report at this time.
"At least based on my reading, there are not situations where there wasn't people trying to do their job," Brandon said. "My read of the situation is we had a breakdown in our communications."
He also declined to talk about what the university found in its internal investigation.
1:08 p.m.: The department has already established a new fail-safe to track hours internally, including a new way to track whether forms are running late.
"Quality control is no longer present in any situation that could be construed as a coaching situation," new U-M Athletic Director David Brandon said.
The department is now reviewing the allegations and responding again to the NCAA, which has also asked for additional information.
Brandon said the school expects a hearing before the NCAA in August.
Brandon said the NCAA is alleging the football program exceeded practice guidelines.
"This is a tough day," he said.
Brandon broke down the allegations to the following main areas: Countable coaching limits and practice season rules, along with the monitoring of these rules.
Non U-M coaching staff, the quality control staff members, participated in prohibited behaviors. Also, at the time, quality control staff members were not allowed to sit in coaching meetings.
"We clearly made mistakes in these areas." Brandon said.
There's also an allegation they went beyond the allowed out-of-season hour limit and on Sundays during the season.
Brandon is saying the overages were a matter of minutes in one case and an hour in others.
He said he believes it came from internal confusion over what counted toward the limit.
"There was no charge of loss of institutional control."
Brandon also said they "made a mistake" in a finding that coaching staff were disciplining students who were missing classes out-of-season. NCAA rules make it clear that it is not permissible during the summer months.
Also, an individual graduate assistant is knocked for behavior during the investigation.
The penalties are up to the NCAA, he said.
1 p.m.: Starting the press conference
Mary Sue Coleman just said they've received a notice of allegations from the NCAA and are sharing it today.
No word yet on what those allegations are.
"We will make all neccesary changes. We are already addressing changes head on."
12:45 p.m.: Media members are gathering in the regents room before the start of the press conference to discuss findings from the NCAA in its investigation into Michigan's football program.
More than 20 media members are here already, including all the local television stations. A podium is set up at the edge of a large conference table, where various officials will be speaking.
Rita Rodriguez, the wife of Michigan football coach Rich Rodruguez, is sitting at the edge of the room.
Other than a gaggle of Michigan public relations folks, no other Michigan officials are in attendance yet at the Fleming administration building.
Here's what's being discussed today: In August, Michigan launched an internal investigation into questions about whether football coach Rich Rodriguez and his staff required players to practice more than the NCAA-allotted 20 hours a week.
The university, with the help of law firm Lightfoot, Franklin and White, also is investigating whether coaches violated NCAA rules by attending off-season workouts.
No word yet on what the findings are.