Posted on
Mon, Jan 16, 2012 : 3:50 p.m.
Live updates from protest against Michigan Gov. Rick Snyder near Ann Arbor
By Danny Shaw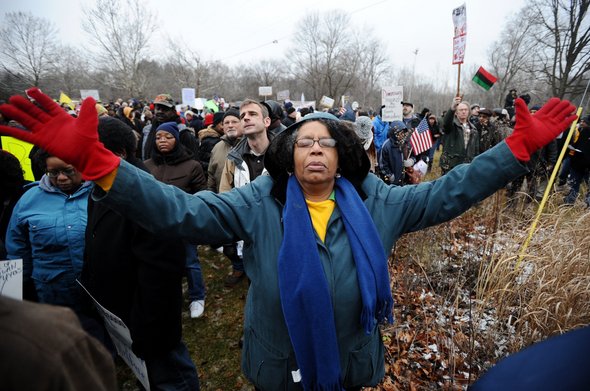 Melanie Maxwell I AnnArbor.com
An estimated 800 people — possibly more — headed into Superior Township near Ann Arbor on Monday afternoon to participate in a rally protesting Gov. Rick Snyder and his effort to place emergency managers in struggling Michigan cities.
The protest was breaking up by 5:30 p.m., as protesters — after delivering a message intended for Snyder to a representative behind the gates of his private community — started to disperse.
Others remained on the scene, lighting candles, singing and chanting in unison despite the cold, damp weather. A few people tried to incite the crowd — including one person who yelled, "Snyder is a terrorist and we have a legal right to arrest him."
But the crowd — including many Occupy Detroit protesters, who remained close to the gates by 6 p.m. — was calmed by a woman who read a speech by Dr. Martin Luther King through a megaphone.
The event attracted about 800 people, according to police estimates, and no arrests were made as of 6 p.m., officials said. That's when the last marchers left the scene.
Several of Snyder's neighbors visited the gate to the private community, but didn't exit the confines. They did not want to comment on the rally out of respect for their fellow neighbor, the community residents said.
It started shortly after 3 p.m. when church buses and vans started rolling into the Washtenaw Community College parking lot. The pace accelerated closer to 4 p.m. as the group prepared to leave that staging area and head to Parker Mill County Park.
By 4 p.m., the crowd was marching to the park, chanting: "This is what Democracy looks like."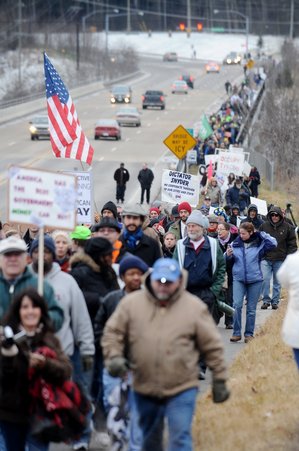 Melanie Maxwell I AnnArbor.com
At 4:20 p.m., as crowds were crossing Dixboro as they headed to the park, their newer chant became: "Whose streets? Our streets!"
The group assembled at the park, where organizers estimated they'd rally for at least an hour before heading to Snyder's house.
And by 5 p.m. — after a few speakers and prayers — the crowd started to leave the park, heading east toward Snyder's house on Geddes Road.
They marched shoulder to shoulder in the westbound lane of Geddes Road, reaching the gate of Snyder's community shortly after 5 p.m., while the line extended an estimated half-mile to the park where the march started.
The mood across the park and, earlier, the WCC parking lot — where at least three sections of spaces filled with hundreds of protesters — was upbeat. The crowd, a diverse mix of all ages and ethnic backgrounds, assembled their signs and took photos of each other before heading out.
The marchers planned the event for Martin Luther King Day, as most state offices and schools were closed and the public focused on the peaceful protests urged by the slain civil rights leader.
"I know that Dr. King fought long and hard for us to be able to have the right to vote for what we want," said Tiffany Burroughs of Ann Arbor, speaking out against the emergency manager law.
Burroughs brought her mother and daughter to the protest.
Others in the crowd included Brit Satchwell, president of the Ann Arbor Education Association, and Zach Steve, president of the Young Democrats of Michigan.
The goal of Monday's protest, Steve said, was to "fill up Superior Township," citing the municipality where Snyder lives in a gated community on Geddes Road west of Dixboro.
"Our actual goal would be to make a statement," Steve said. "We want people to know that emergency managers are un-American and against everything we stand for."
Not everyone attending the event was protesting. Stacy Swimp, president of the Frederick Douglass Society in Lansing, said the emergency manager law is just a symptom of a bigger problem.
"If I could ask one question to one of the protesters, it would be, 'Who's really responsible for our financial problem?" he said.
He continued: "Dr.King was a man who believed in personal responsibility. We must own the consequences of our communities and cannot pass the buck."
Melanie Maxwell I AnnArbor.com
Many elected officials were present at the event, including
Ricky Jefferson
, a city council member in Ypsilanti. He was there as a volunteer shuttle bus driver, representing Metropolitan Memorial Full Baptist Church and helping people to reach the protest.
As he saw the crowds responding to the call to action, he said, "I got some hope.
"It's urgent," he continued. "People are participating in their governments again."
His church was one of many attending the event, ranging from local congregations like Second Baptist Church of Ypsilanti to several from across the state that sent representatives. They include Tabernacle Missionary Baptist in Detroit to groups from Grand Rapids, Muskegon, Flint and Pontiac.
However, the Revs. Al Sharpton and Jesse Jackson — national civil rights leaders — did not attend the rally in the park, despite reports that they'd be there.
Members of Michigan's NAACP groups and Occupy Detroit did play a role, though.
As the crowd reached the gates of Snyder's neighborhood, the chant changed to: "Detroit won't go to the back of the bus. No EFMs. No racist cuts."
Members of the crowd included Elizabeth Fox of Muskegon. She was visiting Metro Detroit for the weekend and rearranged her schedule so that she could stay to participate in the protest.
She emphasized that the protest was a statewide effort.
"I wanted to make sure I stayed to see what was going on so I could bring it back to the Muskegon area," she said. "There are people there who care just as much as here."

View Larger Map AnnArbor.com reporters Ryan Stanton and Danny Shaw are reporting this story.