Posted on
Wed, Mar 17, 2010 : 5:35 a.m.
Living with multiple sclerosis, Ypsilanti man proves the power of positive thinking
By Pamela Gossiaux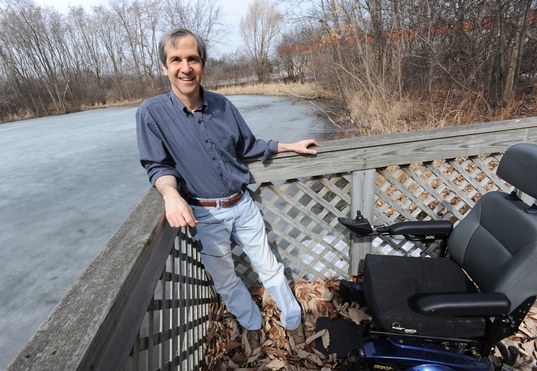 Lon Horwedel | AnnArbor.com
Marc Lerner
has
multiple sclerosis
. He uses a wheelchair, is legally blind, has balance problems, short-term memory loss, bladder hassles and difficulty walking.
But he is living with, not dying from, his illness.
"When I was diagnosed with multiple sclerosis, I began the most significant journey of my life," said Lerner, a 58-year old Ypsilanti resident. "My illness took me deeper than anything else I've ever done. Everything I knew, everything I thought, was thrown out the window, it seemed."
Lerner had to learn a new way of living after his diagnosis in March 1981. Already one who was introspective, Lerner turned within himself to for wisdom. He developed a positive outlook, controlled his stress, and tuned in to what was right with his body instead of what was wrong.
He now uses that outlook to help others.
Marc Lerner founded Lifeskills Institute, an organization that helps those suffering from MS and other chronic illnesses by teaching them that the quality of life and the health of their body depends on their focus.
March is National Multiple Sclerosis Awareness Month. It's estimated that between 250,000 and 350,000 people in the United States suffer from MS, with 200 new cases being diagnosed every week.
"The first groups I dealt with were mentally ill homeless, people living in Santa Monica," Lerner said. "I would get them in touch with their positive and negative self. I led them to a deeper experience and they responded beautifully."
For about 25 years, he also worked with combat veterans with post traumatic stress syndrome. "When they were in combat, they were there, focused on the moment. At that moment there is not a thought in your mind that is more important than your life. That's pretty profound - living in the moment and being connected to the wisdom of your body." Lerner taught them to remember what they had already learned in combat and use it to regain a sense of peace in their everyday lives.
He also worked for several years with breast cancer patients.
Lerner moved to the Ypsilanti area a few years ago. He has written two books, including "A Healthy Way to Be Sick." Lerner, who has a degree in psychology, is also a personal counselor and public speaker.
His focus is on living and thriving, despite his handicaps.
"When I first became legally blind, my brother told me 'In golf, handicaps are given to good golfers to make the competition equal.'" Lerner wrote in an essay. "Of course, I mourned the loss of parts of my life, but looking at my handicaps from that perspective seemed to give my struggle a greater purpose. Even though I am handicapped, the quality of my life doesn't depend on the health of my body; it depends on my focus."
Lerner's focus has allowed him to thrive . "Here I am, I've had MS, for 29 years," he said. "I honestly feel that with all of my symptoms, sitting in a wheel chair, blind, with a lot of hassles people with MS can relate to … I honestly feel I have a quality life because I go beyond thinking. And thinking is what brings you down. The negative thoughts of an MS patient is their worst enemy."