Posted on
Sun, Apr 8, 2012 : 5:55 a.m.
Award-winning bridge player Chris Nelson has a passion for the game
By Lisa Carolin
Chris Nelson is known for his finesse, in bridge that is. The Ann Arbor resident is an award-winning player, and he's a cheerleader for the card game.
"Bridge is the most incredible card game ever invented," said Nelson. "It's thought-provoking, mind-stimulating, social, and completely absorbing."
Nelson earned two national honors in 2011 for being among the highest masterpoint scorers — The Ace of Clubs award and the Mini-McKenney award.
Not bad for someone who had previously taken a 36-year hiatus from the game.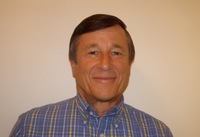 Nelson, who is originally from Grand Rapids, started playing bridge with his parents when he was 12, and played duplicate bridge, the more competitive form of the game, while he was in college at the University of Wisconsin.
He achieved the status of life master, but the smoky card rooms and his interest in other pursuits like sports and his career as a sports promoter took Nelson away from the card game.
He moved to Ann Arbor in 1994 and retired from his professional career in 2010.
"I found myself with a lot more time on my hands, and I decided to get back to playing bridge and playing in the ACBL —American Contract Bridge League," said Nelson.
He discovered three different bridge clubs in Ann Arbor that offered a total of nine sanctioned ACBL games a week: the Ann Arbor City Club, the Burns Park Senior Center and Walden Hills Condominiums.
He attributes part of his success in playing bridge to talented partners like Dick Radtke, who has played bridge for 50 years.
"There's a lot of complexity to bridge and it keeps your mind alert," said Radtke. "Chris is very analytical and figures out the hands really well. He's also a very sociable person. Some players criticize you if you make a mistake, but Chris and I talk about how we can do it better rather than blame one another."
Edward Williams also enjoys being Nelson's bridge partner.
"Since bridge is a partnership game, it is not enough if one partner plays expertly, if the other partner is so flustered, flummoxed, and nervous that he or she plays badly," said Williams. "Chris has informally agreed to take me under his wing. When I play with him, I feel comfortable that any mistake I make will be serenely discussed afterward and treated as a learning experience."
When he's not playing bridge, Nelson also teaches the card game at his home.
Nelson estimates that there are close to 700 duplicate bridge players in Washtenaw County.
As far as his success goes, Nelson said, "I just seem to have a logical mind and am quick with numbers," adding that his dad was a CPA. "When I came back to the game in 2010, my play wasn't what it was when I left the game. Now I've surpassed that former level."