Posted on
Sat, Jul 16, 2011 : 2:39 p.m.
Local builders volunteer services to install handicap access ramp in Ypsilanti
By Lisa Carolin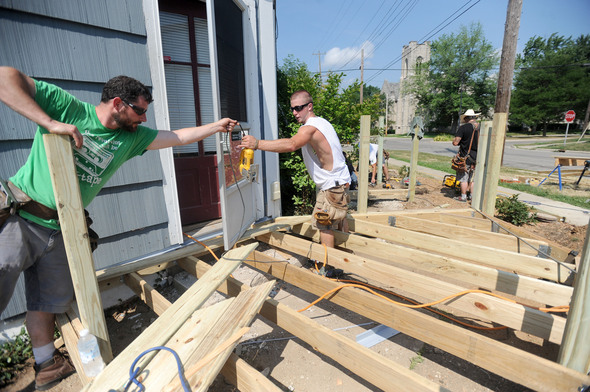 Angela J. Cesere | AnnArbor.com
The sound of saws and drills filled the air as eight builders worked to create a handicap accessible ramp today at the
SOS Community Services
building on North River Road in Ypsilanti.
Members of the Builders and Remodelers Association of Greater Ann Arbor and the Washtenaw Remodelers Council collaborated on the project. Employees from Meadowlark Builders, Old School Construction and Haig Construction are working together this morning with materials donated by Fingerle Lumber and equipment lent by A-1 Rental.
"The folks at SOS continue to find that more and more people need help, and we are happy to do what we can to help," said David Haig, owner of Haig Construction in Ann Arbor.
SOS provides services like housing and food to local homeless families.
"We're building the ramp to help with access to SOS's food distribution entrance," Haig explained.
"We're working off a blueprint," said Ken Thybault, lead carpenter at Meadowlark Building, who came from Flint along with his son, Jeremy Thybault, to help with the project.
Ben Lutzeier, owner of Old School Construction, and Haig started work at the site on Friday.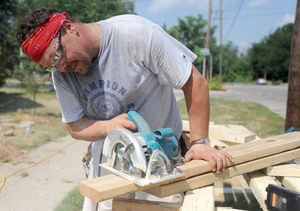 Angela J. Cesere | AnnArbor.com
Shaun Amos, an employee of Meadowlark Builders, said that although the three construction companies are competitors, working together on a project like this helps increase the quality of their work.
"Everybody helps one another, and we all care about what we're doing," he said. "It shows everyone's level of dedication."
"We get more requests for projects like this than we can fulfill," said Haig. "At the Remodelers Council, we discuss who needs it the most and where our time and money is best spent. The Builders Association makes up the rest of the money."
Haig said that the local Builders and Remodelers Association is one of the largest and best in the country and credits the community with being very generous when it comes to projects like this one.
"There's so much need out there, and it takes a lot of work to build a ramp like this one," he said. "SOS does so much to help people's lives. We're fortunate to have such good agencies here and be able to work on these kinds of projects."
Haig said the local Builders and Remodelers Association and the Remodelers Council would like their next project to help the family of a soldier who is currently deployed in Afghanistan. They are currently looking for a family that is interested. For more information, go to the Builders and Remodelers web site.