Posted on
Sat, Nov 19, 2011 : 1:13 p.m.
Local churches offer food, blankets and more to tent housing community Camp Take Notice
By Lisa Carolin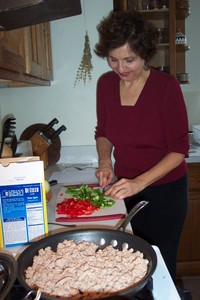 Lisa Carolin | For AnnArbor.com
With Thanksgiving just days away, members of Webster United Church of Christ in Webster Township are actively sharing their bounty with the residents of Camp Take Notice. The camp is a community of homeless people set up in temporary tent housing near I-94 off Wagner Road. The current population of the camp is 45 people.
"Taking the time to listen and be with others with whom we rarely interact changes us all for the good," said Pastor Curt DeMars-Johnson from Webster United Church, whose members plan to take dinner to the camp Sunday. "Sharing food is faith in action, relieving the groan of human suffering of those who have become disjointed and separated from the rest of the community."
Reductions in funding for the Delonis Center in downtown Ann Arbor have meant an increase in the population at the camp.
"We're getting direct referrals from the Delonis Center, the U of M Hospital emergency room and the Washtenaw County Sheriff's Department as well as others," said Brian Durrance, a volunteer at the camp. "We now have women living in the camp and have three pregnant couples."
Durrance says that the camp only serves those 18 and over and primarily has served men. He says that many of those at the camp are disabled, some are veterans, some are construction workers with injuries, and some suffer from anxiety disorders and other mental-health issues.
He noted, "Many people coming out are not prepared for what it's like to live in a tent city. This isn't just a place to drop your sleeping bag. You take ownership and participate in chores and attend weekly meetings."
Durrance says that the camp is constantly looking for tents, sleeping bags, blankets, and large construction tarps. Judy Bemis, a member of Webster United Church, has helped gather donations from the church, which has given more than 30 blankets and a dozen sleeping bags in the last two weeks to the camp.
"We have a small church, but there's great interest in doing for others," said Bemis. "Like many churches, we are losing members so we are trying to do action-oriented projects and not just being pew sitters."
Church member Michelle Obrecht, along with her husband and daughter, are among the active volunteers at the church. They have been serving food at the Delonis Center for the last three years.
"We have watched all manner of people come there to eat a solid meal," said Obrecht. "They are not abstractions. They are people just like you and me. Most are fine, polite and decent people who have hit a bump in the road in life for whatever reason."
"I'm not a stranger to hunger and I know what it's like to shiver when you're cold and hungry," said Jas Obrecht. "These people are us except for a twist of fate and a bit of bad luck."
The Obrechts donated blankets and sleeping bags to Camp Take Notice and are preparing food for Sunday's dinner at the camp.
"Our society is headed into a direction where there's maldistribution of wealth and poor people are really suffering," said Michelle Obrecht. "Seeing it happening now is really stressful, and that's why we had to get involved."
Church members will be transporting food to the camp Sunday. Anyone interested in donating specific food items, bottled water, or other previously mentioned items to Camp Take Notice may contact Peggy Lynch at 313-408-5196 or e-mail her at margaretannlynch@yahoo.com. For more information about the camp, go to tentcitymichigan.org/.