Posted on
Sat, Jan 21, 2012 : 1:10 p.m.
Ann Arbor entrepreneur shows off ice-powered air conditioning at Plymouth Ice Festival
By Lisa Carolin
VIsitors to the Plymouth Ice Festival this weekend are unlikely to be thinking about air conditioning, unless they visit Reyn Hendrickson's display. The Ann Arbor entrepreneur, who owns StarPak Group in Ann Arbor, is working on a system that would use huge blocks of ice to cool buildings.
Hendrickson first attempted using at his home in Ann Arbor last winter, and has since been working on ways to perfect the air-conditioning process. Once the ice is made, Hendrickson passes the runoff from the melting ice through an air system to create the cooling effect. Hendrickson is answering some questions about how the system works for visitors to his display, but is keeping some secrets while he seeks a patent for his system.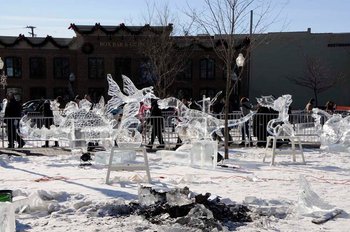 Facebook photo
"This idea is an ancient one," said Hendrickson, who is also very involved with solar thermal installations. "I realized the festival might be a wonderful way to introduce our "ice as work" alongside the festival's "ice as art."
StarPak Group is a collaborative of affiliated firms that implement integrated smart energy systems in everything from single-family residences to large commercial and industrial facilities. In 2008, Hendrickson joined forces with Damian Farrell Design Group, PLLC, an architecture firm committed to eco-friendly design, which is helping with Hendrickson's ice festival display.
"Reyn's idea was to get people's attention about the energy cycle," said Damian Farrell. "It's an ice house. It's how the Amish have lived for many years. You have a big block of ice and cover it with straw, and that's where you keep meat and milk."
Hendrickson, who said he started his business while a student at the University of Michigan Law School, said has contracts pending with a number of large businesses in the area including Domino's Farms and Eastern Michigan University.
"This has the potential of cooling buildings with zero energy costs," said Farrell. "The idea is to store ice in the winter to use for cooling in the upcoming summer. It's something you can do at your own home."
Hendrickson said his objective is to promote the advance of renewable energy and energy efficiency, and that festival visitors can watch him pursue those goals this weekend.
The Plymouth Ice Festival runs until 9 tonight and from 9 a.m. to 6 p.m. Sunday. It includes carving competitions, a chainsaw speed carving show and product displays. Admission is free. Ice sculptures can be viewed any time, weather permitting.