Posted on
Wed, Jan 4, 2012 : 11:59 a.m.
Iowa reactions: Local GOP officials expecting fierce battle for Michigan if Romney emerges as nominee
By Ryan J. Stanton
If the 2012 presidential election ends up being a contest between Barack Obama and Mitt Romney, expect a fierce battle for the state of Michigan.
And that means more face time with both candidates.
"It would be very difficult for any Democrat to be elected president without carrying Michigan," said Wyckham Seelig, vice chairman of the Washtenaw County Republican Committee.
"And if Mitt Romney ends up being the nominee, we have an outstanding chance to carry this state for the Republican ticket," he said. "It would be fun campaigning in this state for Mitt Romney. I think he'd win Michigan … absolutely."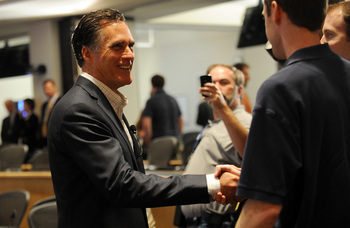 Melanie Maxwell | AnnArbor.com
Romney's squeaker of a victory in the Iowa caucuses on Tuesday was the first test for the Michigan native and son of former Michigan Gov. George Romney.
Mitt Romney, the former Massachusetts governor who already paid Ann Arbor a visit last May, topped former Pennsylvania Sen. Rick Santorum by eight votes on Tuesday. Both ended up with about 25 percent of the vote.
Ron Paul finished in third place with 21 percent.
"Iowa looks like it's doing its traditional role of winnowing the field, and we have two candidates — Mitt Romney and Rick Santorum — who are obviously coming out of Iowa very strong, and it looks like we're going to have an interesting race this week in New Hampshire," Seelig said.
Dennis Moore, director of the local Willow Run Tea Party Caucus, agreed that Romney might have an easier path to winning than Santorum, the more conservative of the two.
"Quite frankly, we have a little bit of a splintering or a division within the Tea Party movement across the state," Moore said. "I have publicly endorsed Mitt Romney. That is not going over well with our tried-and-true Tea Party conservatives, which I do believe I am."
Moore believes the Iowa caucus only complicated issues. He said Santorum's performance was notable, but he's not sure if the rest of the nation will come out as strong for him.
"Rick Santorum is everything ideologically that we as Tea Party people are, but Iowa voted on a pastor and the rest of the nation will not do that," he said, referring to Santorum, who is a devout Catholic. "I would love in my heart to be able to endorse Rick Santorum."
Asked whether he's pulling for a particular GOP candidate, Seelig said he's not necessarily taking sides yet.
"I am pulling for getting rid of this disaster of a president," he said. "Twenty-five million people are either unemployed, looking for work or have given up. That's a disaster."
Lonnie Scott, the Washtenaw County Democratic Party's co-vice chair for outreach, called the Iowa caucus results predictable.
"But it's also a testament to the fact that the Republicans are not coalescing around a candidate," he said. "And to me, it's the same situation that the Democrats had when we had John Kerry, or in Michigan with Virg Bernero. It becomes hard to win an election."
Scott predicts it'll be a battle for the state of Michigan no matter who gets the nomination from the GOP.
"We are the state of working people," he said. "And when you see things like Mitt Romney's comments about letting Detroit go bankrupt … I think Michigan is going to stick with Barack Obama. His policies have clearly benefited our state."
Ryan J. Stanton covers government and politics for AnnArbor.com. Reach him at ryanstanton@annarbor.com or 734-623-2529. You also can follow him on Twitter or subscribe to AnnArbor.com's email newsletters.