Posted on
Fri, Nov 2, 2012 : 12:33 p.m.
Michigan Red Cross chapters deploying more volunteers to Superstorm Sandy relief effort
By Amy Biolchini
American Red Cross volunteers across Michigan, including 17 volunteers from the Washtenaw-Lenawee Chapter, have been mobilized to respond to Superstorm Sandy relief efforts -- and more are on their way today.
As of Friday, 50 volunteers had been dispatched from the central and northern Michigan chapters and 25 others were being trained for deployment.
The target areas for relief efforts are in New Jersey and New York, but the Red Cross has shelters open across nine states that have been affected by the storm that first flooded parts of the East Coast Monday night.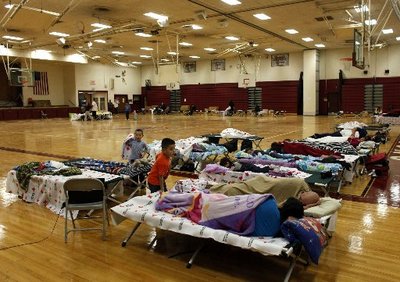 Jason DeCrow | The Associated Press
Thursday night, the Red Cross provided shelter to 7,000 people in 115 shelters across nine states.
Nationally, the Red Cross had deployed 3,300 disaster relief workers, 12 mobile kitchens, 230 response vehicles and 50 trailers with relief supplies.
The Washtenaw-Lenawee Chapter of the Red Cross had about 140 trained volunteers on hand that they called first to see who was able to respond to the relief efforts, said Ashley Cieflinski, emergency services director.
Hurricane Sandy hit the eastern seaboard Monday night, devastating parts of New York and New Jersey. By Tuesday morning, four volunteers from the local chapter were already on their way eastward.
The local chapter dispatches volunteers based on the requests of the national organization, which typically asks for volunteers from areas closest to the disaster first as a cost-savings measure, Cieflinski said.
"We're still trying to assess what the needs are on the ground," Cieflinski said, explaining that the Red Cross' requests may change over the weekend as the extent of the damage and need for volunteers become clearer.
Additionally, the Washtenaw-Lenawee Chapter continues to hold its disaster relief response training classes on a regular basis. The training, which includes a background check, takes about two days to complete. Volunteers are typically dispatched on two-week tours.
Cieflinski said the chapter has received about 20 calls from people explicitly wanting to volunteer with Sandy relief efforts, most of which came in in the immediate aftermath of the storm. Even if those people can't immediately be dispatched to the East Coast, Cieflinski said the local Red Cross chapter is working to connect them with other relief efforts.
To volunteer with the Washtenaw-Lenawee Chapter of the Red Cross, call (734) 971-5300.
"We really appreciate the time that volunteers are giving out of their schedules to help those that are affected," Cieflinski said.
No additional blood drives have been scheduled yet by the Washtenaw-Lenawee Chapter to respond to the nearly 300 that were canceled in states affected by Superstorm Sandy.
There is a blood drive scheduled from 8 a.m. to 6 p.m. Sunday at Michigan Stadium, an annual event that pits University of Michigan fans against Ohio State University fans to see who can garner the most blood donations and organ donor registrations. Pre-registration for "Be a Hero at the Big House" is available online.
Those interested in donating to the Red Cross can call 1-800-RED CROSS (733-2767) to donate using a credit card or make an appointment to give blood.
Those who want to help can also text "redcross" to 90999 to make a $10 donation. Donations to the American Red Cross can also be made by sending a check to the local chapter at 4624 Packard Road, Ann Arbor, MI, 48104.
Amy Biolchini covers Washtenaw County, health and environmental issues for AnnArbor.com. Reach her at (734) 623-2552, amybiolchini@annarbor.com or on Twitter.