Posted on
Fri, Dec 16, 2011 : 5:43 p.m.
Logan Elementary donates 238 pairs of pajamas to SafeHouse Center
By Danielle Arndt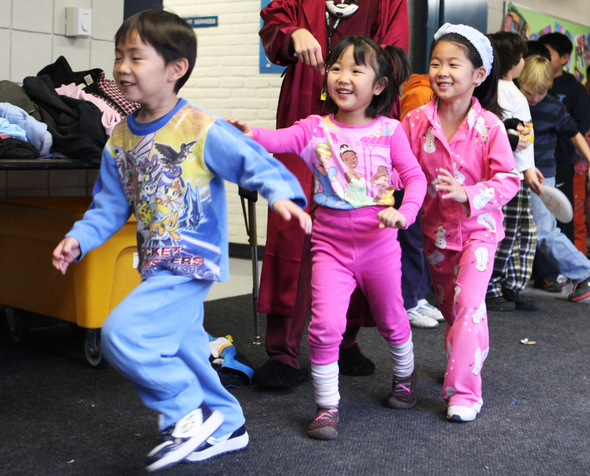 Jeff Sainlar I AnnArbor.com
Excitement and bedtime slippers filled the cafeteria at Logan Elementary school Friday afternoon.
The pupils at Logan, dressed in their favorite PJs, celebrated collecting 238 pairs of pajamas for the Ann Arbor SafeHouse Center at a 2:30 p.m. assembly.
This is the second year the elementary school has participated in the Great Bedtime Story Pajama Drive, a partnership between Scholastic Book Clubs and the Pajama Program. The partnership provides books and pajamas to children in need.
The Pajama Program is a national nonprofit that serves to connect groups that donate with other groups that need donations.
"Sometimes, kids don't have anyone to buy things for them. So they need us to," said 9-year-old Andres Alvez.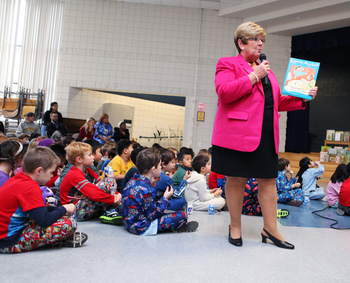 Jeff Sainlar I AnnArbor.com
The fourth grader said he hopes a little boy at SafeHouse likes the penguin pajamas he donated.
Last year, Logan collected 147 pairs of pajamas in a week's time. And although this year's total fell short of the school's 300-jammie goal, Principal Terra Webster said she is very proud of her pupils.
Julaine LeDuc, director of resource development for SafeHouse, thanked the children and Logan's administration for their efforts.
"Around the holidays, you start to think about what you want for Christmas. So it was so nice of you to think about other kids," she said to the boys and girls in attendance.
LeDuc told the pupils that children who are taken to SafeHouse often are removed from their homes in an urgent manner because the environment is not safe and they don't have time to pack their favorite PJs.
"It's a really cool thing for them to have a new pair there waiting that another child was kind enough to bring," she said, adding the jammies are like a "big warm hug" after being uprooted from their homes.
Superintendent Patricia Green attended the Logan Elementary assembly to read to the children. She read "Pajamas Anytime" by Marsha Hayles, illustrated by Hiroe Nakata.
"There is nothing like cookies, milk and kids in their pajamas," Green said of the assembly. "They all just kind of go together, don't they?"
She said it's nice to spend time with the children this time of year and applauded the educators at Logan for teaching their pupils about giving back at such a young age.
10-year-old Shalae Page said it was fun seeing all of her classmates in their colorful pajamas.
"But it was kind of weird seeing the teachers in theirs," she added with a giggle.
Staff reporter Danielle Arndt covers K-12 education for AnnArbor.com. Follow her on Twitter @DanielleArndt or email her at daniellearndt@annarbor.com.