Posted on
Sat, Oct 22, 2011 : 5:02 p.m.
Lohr-Textile Greenway expected to be ready for spring 2012
By Tom Perkins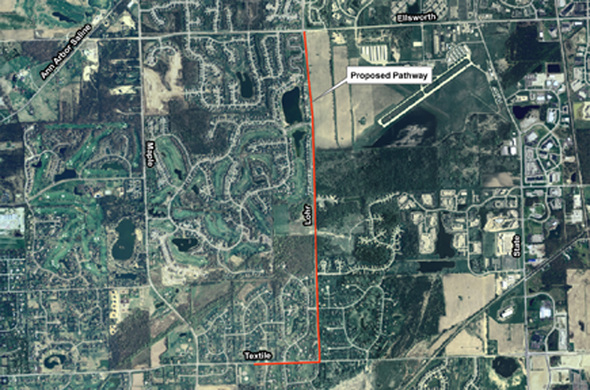 Courtesy of Pittsfield Township
Pittsfield Township residents will have the opportunity to enjoy a new greenway after the snow thaws this winter.
Work along the last mile-long stretch of the Lohr-Textile Greenway is under way, and officials are hoping to have a ribbon cutting sometime in spring 2012.
When complete, the 2.5-mile, 10-foot-wide non-motorized path run south on Lohr Road from Ellsworth to Textile Roads. It will then continue on the south side of Textile, roughly a half mile to Teft Park.
Among the neighborhoods it connects are Stonebridge, St. James Woods, Waterways, Silo Ridge, Lohr Lake Village, Mallard Cove, Sha Estates and East Horizons.
Township officials have said it is first project in a larger effort to develop an easily accessible network of non-motorized vehicle and pedestrian pathways linking Saline, Pittsfield Township and Ann Arbor.
The about $1 million pathway was paid for by $800,000 in grant money and $200,000 in matching funds from the township, Township Supervisor Mandy Grewal said.
"I think the comments that we're getting from residents are overwhelmingly positive," she said. My 'Kodak moment' was when we first started work on greenway and there was just a clear cut, dirt stretch.
"On Saturday morning, around 10 a.m. or so, a father was walking with his daughter on that dirt clearance, and that was my moment where I thought 'Wow. People are going to use this. They want it.'"
The project was met with some concern from residents who now have the pathway running through their front yards. But Grewal said the township worked with those residents and held multiple public meetings to discuss concerns over the project.
The township was able to receive easements on several properties where the greenway cuts from the right-of-way next to the road up into residents' yards. Easements were requested where there was concern the pathway might damage drainage systems, old trees blocked the path or there were no public right-of-ways in place to begin.
The township also was able to reach an agreement with residents at 1821 West Textile Road who didn't want the path running through the middle of their yard or their 100-year-old oak trees to have to come down.
Grewal said the path in that location runs through the township's right-of-way and several of the trees ended up having to be removed. The township also was forced to only use the right-of-way next to the Ann Arbor Airport.
The Ann Arbor Airport Advisory Board told Grewal that they wouldn't approve an easement because the township opposes the runway expansion.
Concerns the township heard during the planning process included the need for more pedestrian crossings, and more have been added, Grewal said. She added that the greenway remains in compliance with federal and state regulations, and the pathway includes a two-foot shoulder on each side.
Additionally, adjustments were made to crosswalk designs and pedestrian direction at the request of homeowners associations in Lohr Lake and Stone Bridge subdivisions.