Posted on
Sat, Jun 1, 2013 : 4:43 p.m.
Louwsma family reunites at Blimpy Burger for one final meal before the big move
By Lisa Carolin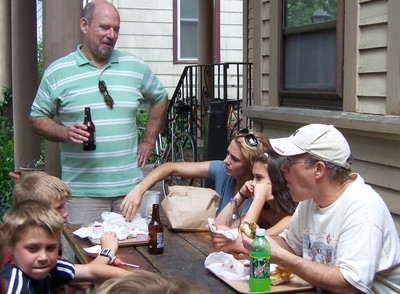 Lisa Carolin | AnnArbor.com
It was a reunion of sorts for the five Louwsma siblings who chose
Krazy Jim's Blimpy Burger
as a gathering spot to reminisce about burgers gone by on Saturday afternoon. There were 27 family members altogether in attendance.
Eldest brother Jack Lousma—the well-known astronaut, who spells his name differently than his siblings—along with sister Judy Gertz, and brothers Jim, David and Don Louwsma (in that birth order) have a long history at Blimpy Burger. They all grew up in Ann Arbor in the 1950s and '60s, when burgers at Blimpy could be had for a few coins.
"This was absolutely worth the drive," said Jim Louwsma, who along with his wife, Joanne, came the farthest for the family gathering, from Minneapolis. "I used to eat here back in 1956, when a burger cost 15 cents. I also worked here for a while."
Several of the Louwsma siblings had paper routes along Division Street that included Blimpy Burger.
"I'd deliver the newspaper here every day, and then spend my Friday nights eating here," said Don Louwsma.
The siblings resided on Marshall Court when they were growing up in Ann Arbor, just down the street from Blimpy Burger.
"This place is special for us, and now we can share it with our grandchildren who are here with us today," said Judy Gertz.
The siblings—all of whom live in Michigan except Jim and Joanne—wanted to gather along with their families for one last meal at the restaurant while it's still at its current location on South Division Street. The restaurant's building has been sold to the University of Michigan and it will have to move.
"When they found out it was closing, Uncle Jim said we should have a memorial feedbag, one last lunch at Krazy Jim's," said Laurie Nutt, daughter of David Louwsma, who organized Saturday's reunion. "I grew up in Ann Arbor and remember my dad taking me to Krazy Jim's. I always had fun going there as a kid."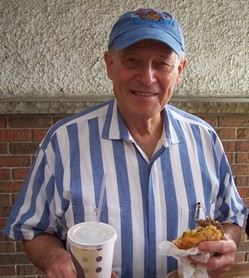 Lisa Carolin | AnnArbor.com
Jack Lousma, a former NASA astronaut who served on the Skylab space station in 1973 and commanded the third space shuttle mission, said, "This has been a family-get-together place ever since I can remember. You can always get as big a burger as you want, and it's hand-made."
Jack Lousma's photo was taken today with owner Rich Magner, and it was hung on the wall while the family was still there.
"It's an honor," responded Jack Lousma.
The 60-year-old Ann Arbor restaurant must vacate its building on South Division Street by Aug. 31 when its lease expires. The property's owner, Patricia Shafer, whose husband, Jim Shafer, was Blimpy Burger's original founder, sold the property to the University of Michigan, which plans to turn that and the adjacent property into a dormitory. Blimpy Burger owner Rich Magner is hoping to reopen at new location but hasn't found one yet.
"I think when this place closes, it will close a chapter in our lives," said Dave Louwsma. "It would be nice if they open a new Blimpy Burger, but sequels are never quite as good."